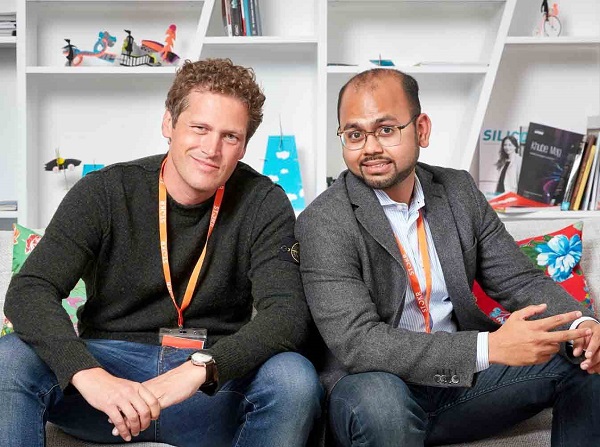 STOKR co-founders Tobias Siedl and Arnab Naskar; Credit: © The LHoFT
As reported by Silicon Luxembourg, two Luxembourgish startups have raised a total of €4.9 million in funding.
Yollty, a Luxembourg-based startup specialising in loyalty solutions, has finalised a €1 million funding round from a consortium of private and public investors. Half of the fundin (€545,000), was secured at the end of February 2021. The Luxembourg Business Angel Network (LBAN) and young innovative enterprises were among the main contributors.
Alexandros Trepeklis, Yollty's Founder and CEO, explained: "An additional €455,000 has been already committed and will be released if we achieve some predefined KPI targets in the following two years".
The startup's fundraising journey has been somewhat challenging, not least due to the COVID-19 pandemic. Mr Trepeklis recalled: "It started a bit more than 1.5 years ago and took us around six months to secure an initial funding of €350,000 from private investors". Although all legal aspects were already concluded, the investors had to step back and suspend their funding as a result of the first lockdown.
Yollty will now focus on expanding in Luxembourg and abroad and growing its team further. To complete its tech, sales and marketing teams, the company expects to recruit new full-time staff and a couple of interns by the summer.
Similarly, STOKR, a funding platform in digital assets which connects startups and small and medium-sized entreprises (SMEs) with investors, has signed off a €3.9 million pre-series A funding with investors including Borderless Capital, Utopia Genesis Foundation and G1 Ventures.
The funding will help the startup respond to a growing demand in digital investment. Arnab Naskar, STOKR Co-founder and Business Strategy Lead, explained: "Our client base is exploding. Each day, we are getting 200 new users who are looking for startups and SMEs to invest in. Last week we recorded 2,000+ new investors".
The €3.9 million funding will thus support the scale-up strategy of the fintech and its plans to meet the growing demand in digital securities (tokens) for the financing of innovative projects.