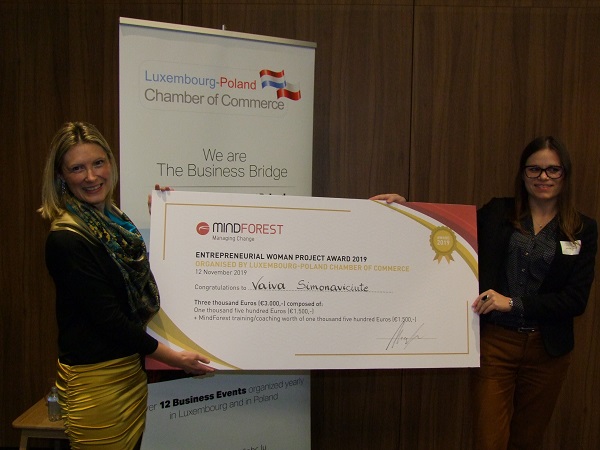 Vaiva Simonaviciute (Mava Univers), winner of LPCC EWP 2019;
On Tuesday 12 November 2019, Arendt House hosted the Final of the Entrepreneurial Women Training Programme, with Vaiva Simonaviciute (Mava Univers) being announced as the winner of the top prize.
In total, 21 women, selected from around 100 applications, participated in this year's 6th annual Entrepreneurial Women initiative. Over the course of 6 Saturdays in October and November, the CMS law firm was the venue for the provision of 40+ hours' training in English across a broad array of topics including: Business Entities / Idea Generation / VAT and Taxation / Business Model Canvas / Intellectual Property / Employment Law / Fundraising and Credits for Start-ups / Project Management / Networking / Public Speaking / Social Media Marketing / Business Dress Code and Etiquette.
This year's edition was enriched by additional coaching sessions during the training sessions, as well as three hours of one-to-one meetings, free-of-charge, offered to each participant by external coaches from Luxembourg. All trainers involved are well-known experts in the Luxembourgish business arena.
During the last Saturday training sessions, all participants presented a final project "Your Business Idea" prepared individually and addressing the topics covered in the training sessions.
Voting for the best projects was undertaken by a peer review approach, with the participating women voting amongst themselves.
On Tuesday evening, the following winners were announced as:
1. Vaiva Simonaviciute (Mava Univers), for eco educational toys and instruments (business up-and-running for 2 weeks), who won the 1st prize worth €3,000 prize (€1,500 in cash and €1,500 in training) from Mind Forest (Gold Sponsor)
2. Sofie Verstraeten (Dionysos), fitness trainer (already in business), who won the 2nd prize worth €1,500 from ATOZ (Silver Sponsor)
3. Maria Pawelek (Cuddles and Trust), an idea of an agency / platform connecting parents with pre-screened childcare providers, who won the 3rd prize worth €1,000 from the Ireland Luxembourg Chamber of Commerce (ILCC)
In addition, Ms. Katarzyna Salata presented a special prize of €1,000 to an Entrepreneurial Woman, Alicja Klapec-Biren, for her project K-space, an idea of a dedicated area for kids at workplaces, businesses and events.
The evening earlier had involved an inspiring speech by Ms Polina Frolova-Montano, Co-Founder of Job Today.
As part of the LPCC AGM which took place earlier, Artur Sosna, LPCC Chairman, confirmed that the chamber has 60+ corporate members and 40+ private members, as well as an Advisory Board. Fopr 2020, he stated that the LPCC intends to organise 16 events, including 9 monthly meet-ups which involve presentations by corporate members, a Luxembourg-Poland Round Table in Warsaw, a Spring Business Lunch in March 2020, and s Summer Business Party in June 2020, as well as the Entrepreneurial Women's Project (7th edition, from September 2020), plus a Luxembourg-Poland Business Conference.
He also presented the finances which reflected an income of €68,800 against expenses of €59,065.75, showing a surplus of €9,734.25 (up from €3,120.50 last year on an income of just under €40,000) and a health cash balance of around €50,000.