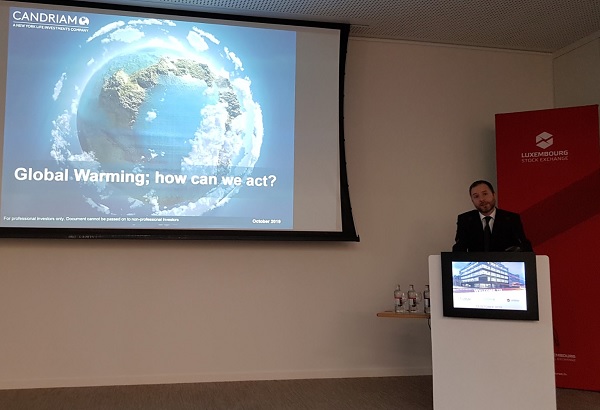 Nicolas Deltour, Senior Investment Specialist Equities at Candriam; Credit: Jazmin Campbell
The very first LuxFLAG Sustainable Investment Week, organised by the Luxembourg Finance Labelling Agency (LuxFLAG), is officially underway, with various events already having been held across Luxembourg City on Tuesday and Wednesday and more to come on Thursday.
Topics covered at this three-day event, taking place from 22-24 October 2019, have so far included the future of EU sustainable finance, environmental, social and governance (ESG) trends in areas such as Private Equity (PE), investment in the UN Sustainable Development Goals (SDG), green trends and ESG reporting and data challenges.
One of the sessions on Wednesday evening, hosted by Candriam and the Luxembourg Stock Exchange (LuxSE), dealt more specifically with global warming and how investors can react to climate change. LuxFLAG Chairwoman Denise Voss opened the session by welcoming the audience to this 10th of fifteen standalone events organised as part of LuxFLAG Sustainable Investment Week. She explained that the initiative aims to put sustainability at the forefront of finance by allowing LuxFLAG's associate members to present their best practices in sustainable finance, whilst allowing financial professionals to learn from one another and network around this topic.
Denise Voss' opening speech was followed by an introduction to the event itself by Julie Becker, Head of the Luxembourg Green Exchange (LGX), who explained LuxSE's decision to dedicate their event to global warming and the reaction of the financial sector to climate change. She reiterated the need for all stakeholders to work together in assuming this "shared responsibility to contribute to a sustainable future". She concluded her speech by introducing keynote speaker Nicolas Deltour, a Senior Investment Specialist in Equities at Candriam.
Nicolas Deltour's presentation focused on how investors can act on the consequences of global warming and mitigate its risks. He began by emphasising the reality of the accelerated rise of global temperatures before reiterating that the first responsibility of managers is to society as a whole and that the second is to their clients and investors in terms of performance. Mr. Deltour highlighted the role of contributing to the fight against climate change in the context of these responsibilities. In terms of pragmatism, companies have increasingly found environmental solutions to reduce costs in recent years, for instance through smart cars and smart (and cleaner) data centres. In this regards, there is already a market for this type of solution. He also highlighted the gradual switch to renewable energy, recalling that power generation can be a major source of CO2 emissions reduction, as well as industry, transport and construction efficiency. Mr. Deltour took a moment to reiterate the priority that are the UN's sustainable development goals (SDGs) for humankind.
Nicolas Deltour then turned his attention to the two angles through which pragmatic solutions to climate change can be analysed (according to Candriam): mitigation and adaptation. To illustrate, he presented a few success stories of businesses with innovative solutions, such as Kingspan with its more efficient insulation systems, Novozymes which replaces chemicals with biological solutions (eg biological detergent for clothes, which uses less water and is less expensive in terms of production), Umicore which uses innovative systems to reduce exhaust gas, recycles metal and used batteries and encourages the adoption of electric vehicles, and Badger Meter, inc, a company that has developed technology for smart water management (reduces water costs).
Nicolas Deltour reiterated that such solutions are on the market at present, managers need to be consistent in their ESG analysis of companies, taking into account both the traditional factors of the respect of human rights and gender equality and these more recent environmental factors before adding a company to their portfolio. He emphasised the need to optimise their portfolio by finding solutions in each sector, including energy, materials and utilities (eg water management). He added that in many cases, optimisation can generate greater performance with carbon efficient companies tending to outperform traditional companies since 2010. Mr. Deltour concluded by calling climate change both a "mega trend" and an "opportunity", thus recommending that investors join corporates that do contribute to reducing global warming. Finishing on a positive note, he said "twenty years ago, there was a big gap in the ozone. Not anymore. So let's see what happens for the rest".
The presentation was followed by a Q&A and an organic cocktail.
LuxFLAG Sustainable Investment Week will continue today with talks on aligning portfolios with climate objectives (State Street), how ESG is changing the rules for banks (Linklaters), investing in environmental solutions (BGL BNP Paribas) and education in sustainable finance (ABBL) in Luxembourg-Kirchberg, with the closing session focusing on the conversion of a traditional fund to an ESG fund, held at ING in the Luxembourg-Gare district.