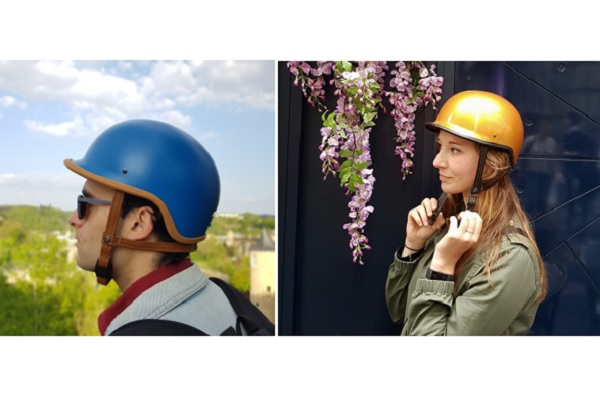 Dada Cycles ®, pioneer brand in sustainable solutions dedicated to urban cyclists, has announced that they will soon be launching their first product - the Dada cycle helmet.
The Luxembourg startup is addressing the challenge of low wear of helmets among the cycling community; the brand has developed a product that not only protects cyclists but also acts as a lifestyle accessory thanks to its retro-chic design.
To put the cycle helmet in line with cycling's values, Dada Cycles ® has built the first eco-friendly cycle helmet on the market thanks to the use of recycled and bio-plastics as well as natural materials instead of oil-derived materials. The carbon footprint of the Dada cycle helmet is hence reduced by 70% compared to that of a traditional helmet.
The brand will be launching Dada helmet's pre-sales on the Kickstarter crowdfunding platform for an autumn market entry.
David Maroko founded Dada Cycles ® brand in August 2018. It all started with a simple observation: the design and the comfort of current helmets are not adjusted to the urban context.
Only one quarter of frequent cyclists wear a helmet. The young brand identified the poor quality of the offering as the direct cause for the low use of the helmet among the cycling community. Yet, helmets do save life. In case of accident, their research showed that the wear of a helmet diminishes the risk of a major brain trauma by 70%.
With a background in infrastructure financing, David Maroko, a Luxembourg-based cycling enthusiast, decided to leave his banking career behind to create Dada Cycles ®, a brand that aims at contributing to the boom of soft mobility means by bringing to the market solutions to problems cyclists may encounter.
So as to offer comfort and practicality, the helmet features leather straps, magnetic buckle, a comprehensive set of paddings and detachable magnetic screen. With its two collections, the product will be available with two different looks:
• TRIM collection has a retro flavour thanks to its 8 timeless colours;
• NATURAL ELEMENTS collection is slightly ostentatious with 2 unique glossy colours.
All in all, a range of 10 colours will be announced on the various digital supports prior to the start of the Kickstarter campaign.
David explained that the inner shell is made out of expanded PLA (poly-lactic acid) sourced from sugar cane (crops that are neither genetically modified nor dedicated to human agriculture), hence entirely biodegradable; and the outer shell is made out of recycled polycarbonate.
Designed in Luxembourg, the product is made in Europe in carefully selected factories and workshops localized in Belgium, The Netherlands, Italy and France. The assembly is done in Luxembourg by persons with disabilities in Sheltered Workshops.