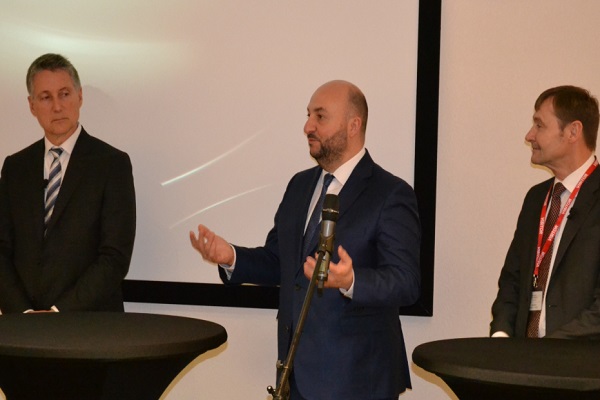 Credit: Ministry of Economy
Today saw the presentation of the innovative project "Factory of the Future" at Husky Injection Molding in Dudelange.
Present in Luxembourg since 1984, Husky Injection Molding specialises in the design and manufacture of injection molding machines and integrated industrial production systems. At its production site in Dudelange, the company has just completed a project to digitise and implement the technologies of Industry 4.0.
Called "Factory of the Future", the implemented system allows the complete digitisation of the process from the request for a quote from the customer to the delivery of the finished industrial product. The system has been the subject of a research and innovation project costing some €11 million. The project was supported by a grant from the Ministry of the Economy amounting to around €3.4 million.
The "Factory of the Future" project will enable Husky Injection Molding to reduce production costs while continuing to offer its customers high value-added solutions that meet their increasingly complex needs. The company carried out the project in collaboration with the Siemens group, which set up a specialised human and technical skills base in the digitalisation of industrial processes in Luxembourg.
Luxembourg Deputy Prime Minister and Minister of the Economy Étienne Schneider, who presented the project at a press conference on Wednesday 6 February 2019, commented: "This project is a concrete illustration of our digital innovation strategy in the priority area of ​​the industry 4.0. As a pioneering project, Factory of the Future is fully integrated into our sustainable economic development policy targeting the application of digital technologies in the high-tech industry."