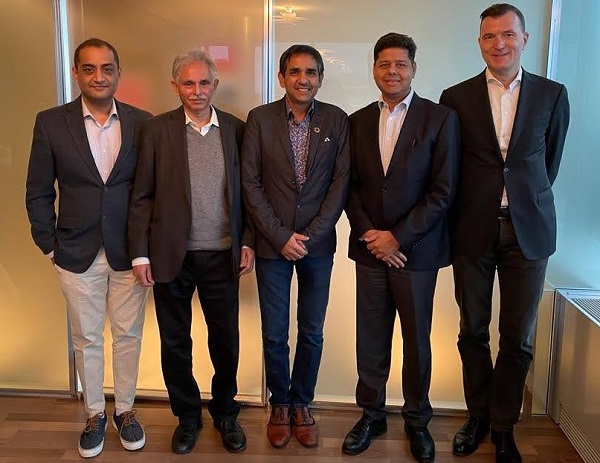 IBCL Board Members (L-R): Ajay Bali; Sudhir Kumar Kohli, Founder & Chairman Emeritus; Aditya Sharma, President; Vijay Goyal, Vice President; Bernhard Dedenbach; Credit: IBCL
Chronicle.lu recently got the opportunity to speak with Aditya Sharma, President and Member of the Board of the Indian Business Chamber of Luxembourg (IBCL).
Mr Sharma, who has been involved in IBCL for more than a decade and was elected its President in March 2021, shared how this non-profit organisation has adapted to and been impacted by the COVID-19 pandemic over the past 22 months, as well as where it sees itself this new year.
He began by presenting the chamber's three-phase response to the pandemic:
- Phase I: Step back and recover - "We used the first eight months of the crisis to allow members time and space to adjust to the unforeseen challenges. We made sure that we did not disturb them with messages. Being silent, while being available, was our way of supporting them";
- Phase II: Webinar and restructuring - "From early 2021, we went the digital way and periodically organised webinars. We also supported the webinars in other territories, especially in India". Aditya Sharma added that the IBCL reviewed its top management structure during this phase. The Board accepted the request of Founding President Sudhir Kumar Kohli to step down and Mr Sharma, who had served as IBCL Co-President since mid-2018, assumed the presidency;
- Phase III: All out with in-person - "We kick-started our in-person events with an all-paid bowling and dinner event. It was a roaring success. Everyone fully enjoyed the experience. Going forward, we shall keep a healthy balance between holding conferences indoors and outdoor business deliberations or networking over light sporting activity to underpin the need for a happy, healthier life".
The chamber also adapted to this "new normal" by switching to remote working. "We took out a subscription with a professional event-hosting platform. We use this platform for internal meetings".
Aditya Sharma noted that IBCL members have been very supportive throughout the pandemic: "Our members firmly stood by us during the pandemic inflection time. In turn, we stood by them and avoided holding events for the sake of it. However, we stayed available to respond to any needs by them". He continued: "Furthermore, we reduced the membership renewal fee for 2021 by 50%. In 2022, we are again reducing the membership renewal fees by 25% and shall hold a few exclusive all-paid events too, to continue our gesture of giving back to members in more ways than one".
Concerning the challenges associated with the pandemic, Mr Sharma cited the challenges of knowing "how to support members in this sudden, unexpected situation". He elaborated: "The low operations led to a budget cut which was reflected by a dip in renewal of our membership in 2021. However, we used the time to ensure we were sensitive to the needs of members, avoided unnecessary emails and carried out introspection. Thereafter, we decided that we needed to give space to health, life and mindfulness in our future events to have our members be better prepared to face sudden events. We have now adopted certain innovative ways of holding future events".
In terms of the impact of the latest COVID-19 measures in Luxembourg, he explained that IBCL believed that the government "has been managing the COVID-19 crisis quite well". He added: "The measures did not affect our regular interactions. We froze our travel within and outside the European Union".
When asked where IBCL sees itself this year, Mr Sharma responded: "For us, 2022 is a turnaround year. Luxembourg is on the verge of recovering. India has already recovered with 8.4% GDP growth last year and a similar journey is likely to continue for a couple of years". He continued: "We [IBCL] have introduced the 'Corporate of the Quarter' to give flexibility to our corporate members to design and deliver business events with logistics support from IBCL".
The chamber currently plans to hold six to eight events this year; these are expected to take place mostly in person with a few being held online. "Going forward, our current split between in-person and remote events shall be 80% vs 20%", he added. IBCL is still looking into developing its hybrid event capability.
Aditya Sharma concluded with a positive reflection on existing and future Luxembourg-India relations: "Luxembourg and India are set to enter into the golden phase in their 70-year-long relationship with growing ties between Prime Minister Narendra Modi and Prime Minister Xavier Bettel over the last two years in several international forums. This is strengthened further with the upcoming visit of Prime Minister Bettel to India's flagship Global Investors Summit, called Vibrant Gujarat, where he shall be hosted by Prime Minister Modi. India is on the path of sound recovery with 9.1% GDP growth in 2021 and around 8.5% projected for 2022. This shall create a pull-effect on Luxembourg economy. This shall also be further supported by the recent investment of more than €8 billion by ArcelorMittal in India".