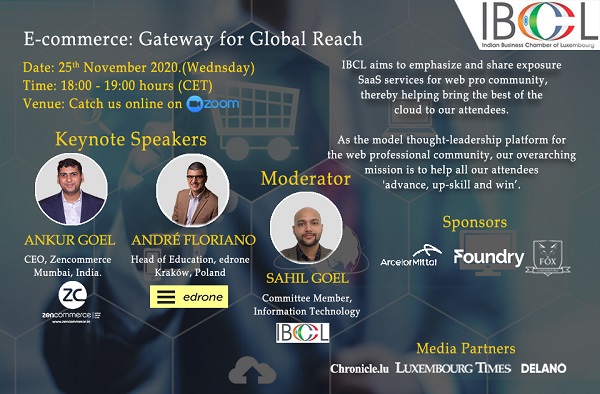 The Indian Business Chamber of Luxembourg (IBCL) has announced that it is organising a webinar on the topic "E-Commerce : Gateway for Global Reach" on Wednesday 25 November 2020 from 18:00 to 19:00.
This live digital event aims to enrich participants' knowledge on the growing e-commerce market in the European Union (EU). Industry experts will offer detailed insight into starting an online store and targeting the right customers to fetch orders.
The IBCL aims to highlight and share exposure to software as a service (SaaS) services for the web pro-community, thereby helping bring the best of the cloud to attendees. As the model thought-leadership platform for the web professional community, the chamber's overarching mission is to help all attendees "advance, up-skill and win".
The webinar will feature influential guest speakers from India and Europe who have been operating e-commerce services to major brands across Europe. Keynote speakers include Ankur Goel, CEO of Zencommerce (Mumbai, India), and André Floriano, Head of Education at edrone (Krakow, Poland). IBCL committee member Sahil Goel will moderate the event.
To register for this event, fill out the Google Docs form at docs.google.com/forms/d/e/. The webinar will be held via Zoom.