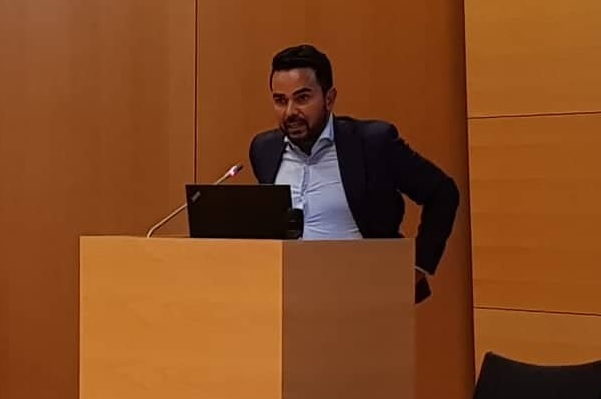 Helios Padilla Mayer, CEO Pacific Alliance Investments; Credit: Jazmin Campbell
On Friday evening, the Indian Business Chamber of Luxembourg (IBCL) held a conference on "The Future of FinTech industry - New Technologies and New Dimensions" at the Chamber of Commerce in Luxembourg-Kirchberg.
The event brought together three expert speakers from diverse backgrounds: Vladimir Khanumyan, Chairman of VNX Exchange; Helios Padilla Mayer, Vice President of Boson Energy SA in Mexico and Central America; Christian Descoups, Secretary general of Fondation Sainte - Irmine.
Vladimir Khanumyan, who has many years' experience with capital markets as a former manager of big media companies, was the first to take the stage. Standing in for his colleague Alexander Tkachenko, Founder and CEO of VNX Exchange, who could no longer attend, Vladimir Khanumyan explained the origins of the VNX Exchange as a FinTech platform that makes venture capital investment accessible to more people and thus move towards a democratised and inexpensive marketplace with more liquid investment and in turn "bring more velocity to the whole industry". The platform, based in Luxembourg as Europe's financial hub, brings together interested potential investors from across the globe. Issuers list digitalised venture fund portfolios which investors can then purchase and trade. Vladimir Khanumyan concluded by adding that the platform supplies a larger pool of investors and increased rates of investment, as well as access to a new asset class.
For his part, the economist Helios Padilla Mayer discussed the transition from "FinTech to CleanTech in the context of Sustainable Development Goals". His talk focused on a reflection of past financial crises and what can be learned from complex products, such as derivatives, through basic algorithms and mathematics. He also emphasised the continued relevance of supply and demand, namely in the context of green finance which is generating increasing interest in the industry. As part of his work, Helios Padilla Mayer looked at such an algorithm to calculate different shock scenarios and their relation to risk for banks, particularly at the time of the 2008 financial crisis. His findings included the hypothesis that over 90 institutions would have been to blame for the crisis according to the algorithm's baseline scenario, and some banks still had capital but "remained insolvent for other reasons". His conclusions centred around the mitigation of counterparty risk, the inadequacy of first loss capital and the necessity of using software frequent calculation to solve complex questions.
Finally, Christian Descoups spoke on "NGO Fundraising in a Digital Age - The Case of Fondation Sainte - Irmine". Having previously worked in the finance sector, Christian Descoups now works in the field of FinTech and fundraising for charity, which he considers to be a business where donors are the clients. Whilst conventional fundraising methods still exist, he emphasised the emergence of new trends such as DigiCash and ApplePay, peer-to-pear giving and social networks and legacy/estate planning. As well as the challenges associated with these new trends, especially legal problems (for instance, money laundering or the EU legislation whereby an authorisation is needed for donations over €30,000 from an individual), Christian Descoups highlighted the potential such means offer. For instance, a charity in a small country like Luxembourg can reach millions of people via new online tools. He concluded by looking to the future: for him, Fondation Sainte - Irmine and other charitable organisations need to both retain donors (loyalty) and reach new donors, increase the volume of donations and, in a country as multicultural as Luxembourg, target foreign residents. He added that Artificial Intelligence may offer the sector a lot of potential, especially with regards predicting donation patterns.
The conference ended with a Q&A session followed by a networking cocktail.