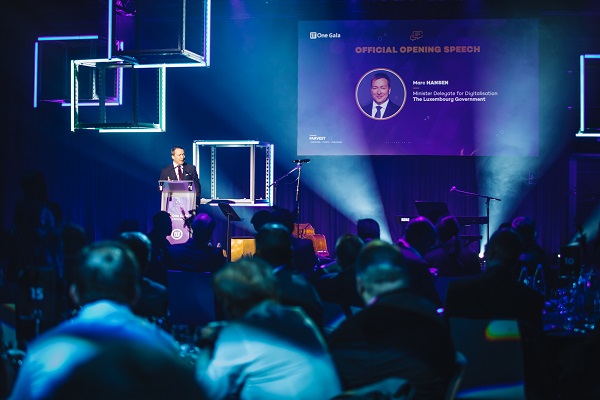 Marc Hansen, Luxembourg's Minister Delegate for Digitalisation; Credit: Sabino Parente
On Tuesday 7 December 2021, more than 500 people attended the 15th edition of the IT One Gala, organised by Farvest, at LuxExpo the Box in Luxembourg-Kirchberg.
Every year, the IT One Gala brings together the Luxembourg IT community to highlight the most technological, innovative and inspiring projects that the country has to offer. After an insightful conference focused on the data economy and a networking cocktail, the evening ended with a dinner and the anticipated Luxembourg ICT Awards' Ceremony.
After last year's digital edition, the IT One Gala returned in a physical format. Aimed at highlighting and sharing insights of some of the most followed IT experts from Luxembourg, the event saw audience members share views on innovative projects and technologies which are redesigning the ecosystem to garner recognition for the Grand Duchy as a digital nation.
"We are living in challenging times and Luxembourg as a digital nation and a gateway to Europe is at the forefront of changes to build sustainable technology and [an] innovative future. IT companies have been precursors in helping organisations step into digital transformation and more than ever they are setting the pace since data has become the new oil", said Charlotte Boutelier and Margaux Vetzel, Managing Directors of Farvest, as they kicked off this 15th edition.
Mario Grotz, Director General for Industry, New Technologies and Research at the Ministry of the Economy and President of Luxinnovation, opened the conference on "The Data Economy Marathon". Mr Grotz described Luxembourg as a "data economy frontrunner" for digitalisation in the European Union (EU) with "a clear, credible and respected vision".
Oxana Turtureanu, Co-Founder and COO of digitalUs and master of ceremonies, then invited experts to spotlight their projects and tell the audience about their "innovation journey". Participating experts included Yves Le Traon, Professor in Computer Science - Systems and Software Reliability and Deputy Director of the Interdisciplinary Centre for Security, Reliability and Trust (SnT) at the University of Luxembourg, and David Dab, National Technology Officer at Microsoft Belgium and Luxembourg.
The conference continued with a Q&A session, moderated by Emilia Tantar, Chief Data and AI Officer at Black Swan Lux, President of Luxembourg AI national mirror committee and delegate on AI standardisation in the CEN CENELEC JTC 21 Strategic Advisory Group and ISO/IEC JTC1/SC 42 working groups, and Alexandru Tantar, Business Analytics Group Leader at the Luxembourg Institute of Science and Technology (LIST) and Black Swan Lux Board Member. Panelists included Jean-Christophe Witz, CIO of Husky Injection Molding System, and Philipp Jäggi, CIO of Laboratoires Réunis.
Other keynote sessions were led by Fabrice Aresu, Chief Executive Officer of LuxTrust, and Ludovic Gilles, Head of Department - Enterprise Sales at POST Telecom.
ICT Awards' Ceremony
The event ended with the Luxembourg ICT Awards' Ceremony, introduced by Marc Hansen, Luxembourg's Minister Delegate for Digitalisation, and moderated by Guy Benzeno, Founder of Center Stage.
Minister Hansen noted real progress in the use of digital public services in Luxembourg: the transactional platform MyGuichet.lu broke its own record by exceeding 3.1 million transmissions of administrative procedures in 2021. The mobile application MyGuichet.lu has been downloaded more than 150,000 times and the application CovidCheck.lu has been downloaded almost 400,000 times. He also recalled the good result obtained by Luxembourg's public services in the European Commission's latest eGovernment benchmark, in which the Grand Duchy now ranks 5th out of 36 countries, up six places compared to 2020.
The Minister Delegate for Digitalisation then announced the launch of a new platform in January 2022: "Zesumme Vereinfachen" (Let's simplify together), which "will enable citizens to take part in the simplification and the further development of administrative procedures". He also announced the launch in the near future of the GouvID application, allowing the public to user their Luxembourg electronic identity card with their smartphone to identify themselves on a PC or tablet in order to access online public services such as MyGuichet.lu.
Moreover, Minister Hansen reaffirmed the government's commitment to move towards a digital government in order to create a simple and predictable framework for individuals and companies in their relationship with the state. He took the example of the recent law making eInvoicing mandatory from 2022.
"We know that the pandemic has been a catalyst for digitalisation. We must preserve this momentum to continue working towards a public and private sector focused on data and which benefits everyone", concluded the Minister Delegate for Digitalisation.
2021 Winners
Individual Awards:

CIO of the Year (rewards an outstanding ICT leader that, thanks to his / her vision, strategic skills and management / leadership qualities, contributed to the performance of his / her company while meeting the stakeholder's needs): Christian Kettmann (CFL);
Inspirational ICT Personality of the Year (rewards an ICT personality for his / her entire career, achievements, lessons learned and efforts to inspire and share with his / her peers and future generations): Jean Hilger (SnT).

Technologies & Projects Awards:

ICT Business Partner of the Year (rewards an ICT provider that led and successfully implemented development, software and / or hardware integration, or infrastructures projects, bringing real added-value to its clients): SnT;
Telecom Innovation of the Year (rewards a local telecom provider that develops and provides a telecom innovation which will contribute to revolutionising the way companies leverage communications): NTT;
Most Innovative ICT Training Programme (rewards a training programme or initiative aiming at schooling actors of the ICT sector, both in terms of hard skills and / or soft skills): WIDE;
Best use of AI & Data (rewards a company that ingeniously and efficiently used artificial intelligence and / or data to conduct an ICT project or implement new processes or tools): POST Luxembourg;
Digital Transformation Project of the Year (rewards a digital transformation project that cleverly leveraged technology to improve a company's performance and contribute to the enhancement of customer and / or employee experience): Ministry of Education, Children and Youth.

Organisations Awards:

ICT Outsourcing Services Provider of the Year (rewards a company providing an on-demand tech environment in order to unburden its clients of some tasks and functions): Finologee;
Young ICT Revelation Company of the Year (new this year; rewards a company created less than five years ago whose primary technology aims to help established IT systems improve their operations and / or functionality, or to flat out disrupt them): Cascade Lab.