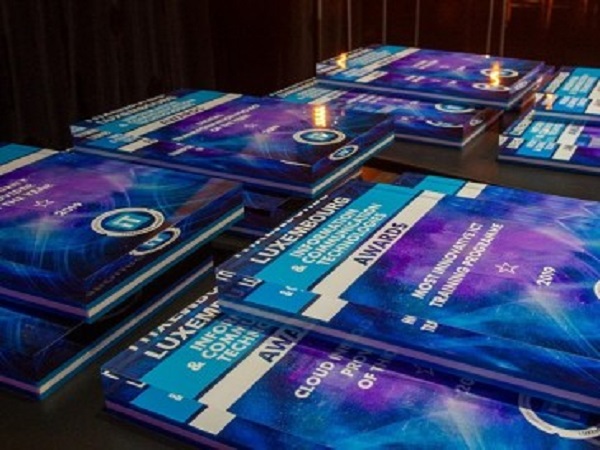 A new edition of the traditional IT One Gala will take place on 1 December 2020 at LuxExpo The Box in Luxembourg-Kirchberg.
As usual, the event will be composed of a series of conferences, a networking session and a gala dinner during which the Luxembourg ICT Awards will be distributed.
Due to the current health situation, the format of the event will be slightly different than usual: the networking cocktail will take place during the conference itself. The Luxembourg ICT Awards ceremony will be part of the gala dinner and will reward the best local practices and most innovative solutions and projects.
Luxembourg ICT Awards
Since 2007, the Luxembourg ICT Awards aim at promoting best practices and recognising the best solutions provided on the market. Key skills required to be a candidate for the awards include professionalism, a sense of innovation, ethics and local involvement. This year, a special prize will be distributed, the Extraordinary IT Support award, which promotes an extraordinary tech initiative implemented during the COVID-19 crisis.
• CIO of the Year: acknowledges an outstanding ICT leader who, thanks to her / his vision, strategic skills and management/leadership qualities, contributed to the performance of his / her company while meeting the stakeholders needs
• ICT Business Partner of the Year: rewards an ICT provider which led and successfully implemented development, software and / or hardware integration or infrastructure projects, bringing real added value to its clients
• ICT Strategic Advisor of the Year: rewards a consulting company that guides its clients for their ICT strategy; in terms of global roadmap, technical choices or business vision
• Telecom Company of the Year: rewards a local telecom provider that proved, through the quality and innovative nature of its services, its vision and contribution to the Luxembourgish ICT ecosystem
• Most Innovative ICT Training Programme: rewards a training programme or initiative aiming at schooling actors of the ICT sector, both in terms of hard and / or soft skills
• Best use of AI & Data: rewards a company that ingeniously and efficiently used artificial intelligence and/or data to conduct an ICT project or implement new processes or tools
• Digital Transformation Project of the Year: rewards a digital transformation project that cleverly leveraged technology to improve a company's performance and contribute to the enhancement of customer and/or employee experience
• Cloud Innovation Provider of the Year: rewards a company specialised in Cloud for its innovative solutions and its outstanding performances
• ICT Security Provider of the Year: rewards an ICT security provider for a project led with a client over the past year; this solution distinguishes itself by its innovative character, its efficiency, the results achieved
• Extraordinary IT Support: promotes an extraordinary tech initiative, implemented during the COVID-19 public health crisis, that supported the company, its employees and its clients and that contributed to the organisation's efficiency, agility and resilience
• ICT Team of the Year: rewards an ICT Team for its outstanding results on a specific project
• ICT Outsourcing Services Provider of the Year: rewards a company providing an on-demand tech environment – Cloud, Managed Services, BPO, etc. – in order to unburden its clients of some tasks and functions
• Inspirational ICT Personality of the Year: rewards an ICT personality for his 7 her entire career, achievements, lessons learned and efforts to inspire and share with his / her peers and future generations.
The CIO of the Year and ICT Team of Year awards are restricted to end-users. Applications to these awards are free, whilst all other submissions will incur an administration fee of €100 excluding VAT. There is no need to submit an application form for the Inspirational ICT Personality of the Year award.
For further information, email team@itone.lu.