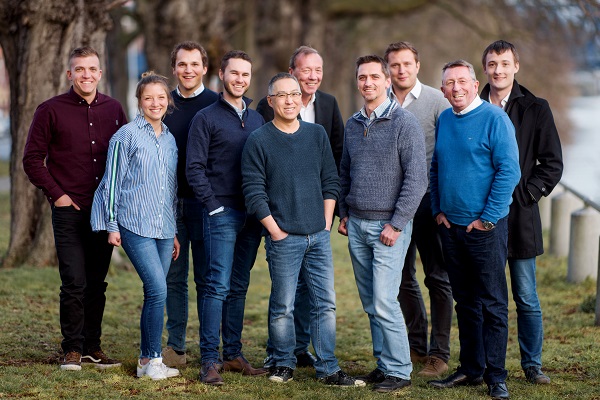 Horus team; Credit: Horus
Horus Software, a revolutionary accounting software that uses artificial intelligence, has announced its arrival in Luxembourg.
This launch coincides with that of the new national accounting standard, the Plan Comptable Normalisé (PCN 2020), and aims to support the digital transformation of Luxembourgish companies and simplify matters for financial departments with software adapted to the new needs of the PCN as well as international organisations.
Horus Software is a Belgian startup formed by a group of experts in accounting and artificial intelligence. Philippe Tailleur, its CEO, is known for having created the BOB accounting software in the 1990s after which he managed SAGE Belgium and Luxembourg for more than ten years. On the advice of his son Jérôme and with the help of a team of fifteen collaborators, he decided to launch Horus to bring a contemporary response to the needs of companies. The software is about using technologies such as artificial intelligence and machine learning to know the company's accounting situation at all times and therefore best guide its leaders in their finance-related decisions.
Launched in 2018 on the Belgian market, the company already supports 500 companies and fiduciaries and aims to serve 3,000 customers by the end of the year for a turnover of €4 million. In Luxembourg, Horus Software aspires to gain the trust of 1,000 companies and fiduciaries in the next three years. To achieve this, the startup has teamed up with two Luxembourgish partners who are in charge of distribution and customer service: Ace Group Luxembourg and IBLux.
Philippe Tailleur, CEO of Horus, commented: "Out of 35,000 companies, Luxembourg has a majority of self-employed people and SMEs who only want to spend more time on the heart of their business and not on accounting encoding. Faced with software that has not really evolved since the 90s, Horus is a precious tool for accountants and fiduciaries, and makes it possible to reconcile the world of finance with that of companies in order to turn them into companies which succeed".
Using two versions of its software, Horus is aimed at both accountants and fiduciaries (Horus Office) as well as the self-employed and managers of SMEs and non-profit organisations (Horus Mobile).