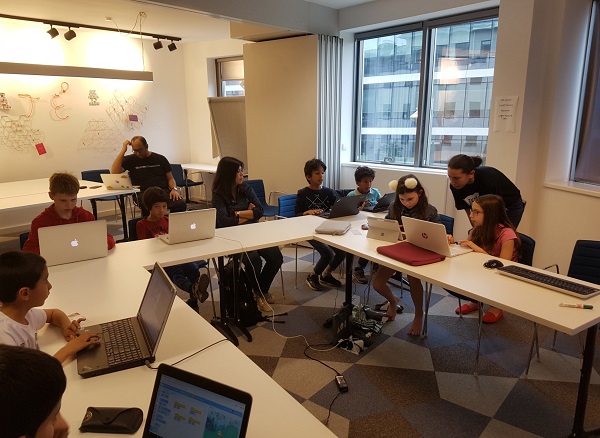 Credit: Kids Life Skills asbl
Kids Life Skills, a local non-profit organisation that offers logic and computer coding classes to children, has announced the dates of its upcoming English- and Luxembourgish-language coding classes.
Kids Life Skills was launched in December 2018 with the aim of teaching children the key technical and life skills needed to become successful in the tech-heavy future. The classes introduce children to the concepts of logic, programming and algorithms in a step-by-step manner through interactive, hands-on games and activities. Younger children play group games and practise programming robots, while older children move to on-screen learning, using kid-focused programmes such as "Scratch" to begin coding their own games and animations.
Initially only offered in English, Kids Life Skills has added three new classes in Luxembourgish to its schedule for the 2019-20 school year. With the aim of reaching more children in and around Luxembourg City, the organisation has recently recruited a new team of multilingual instructors and coaches to lead its classes and workshops.
Founder of Kids Life Skills and experienced FinTech entrepreneur, Ronen Even Tzur, explained: "We started out small last year, with three classes in English. These proved popular but I wanted to reach more local children, who often come from different language backgrounds. Over the summer, we've actively recruited new coaches and instructors with a wide range of mother tongues and are happy to be able to now offer our coding classes, aimed at ages 4-6 and 7-10, in both Luxembourgish and English. In early 2020 we hope to add additional languages, such as French, German or Portuguese".
Weekly classes, in English and in Luxembourgish, will resume this Sunday 15 September 2019. Classes will be held every Sunday at the House of Startups (9 Rue du Laboratoire, 1911 Luxembourg), starting at 13:00 for 4-6 year olds and at 14:00 or 15:00 for 7-10 year olds. Each class lasts 50 minutes. The cost per trimester is €160 per child for the 4-6 age group and €210 per child (or €555 for the whole year) for the 7-10 age group.
In addition to holding weekend classes during the school year, Kids Life Skills also offers short workshops for children, parents and educators on different topics related to digital skills.
For further information, including the full schedule of workshops and classes, and to register for these classes, visit www.kidslifeskills.org.