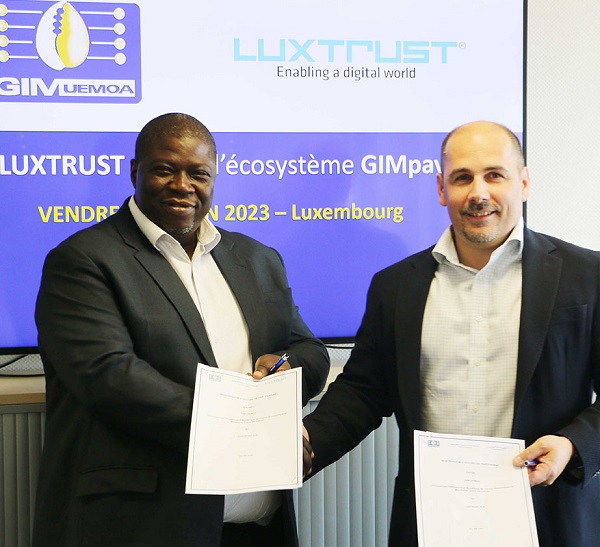 (L-R) Minayegnan Coulibaly, CEO of GIM-UEMOA; Fabrice Aresu, CEO of LuxTrust; Credit: LUXHUB
GIM-UEMOA, an international organisation in charge of the interbank payment system for the West African Economic and Monetary Union (UEMOA) zone, has partnered with Luxembourg-based key players for the development of GIMpay.
The GIMpay infrastructure and its associated new ecosystem, currently in the works, represent GIM-UEMOA's new mutualisation proposal to support players in the regional ecosystem in structuring their digital, secure and relevant offerings. The Luxembourg-based players involved are: Suricate Solutions, a cybersecurity expert; LuxTrust for digital identity solutions; LuxHub for Open Banking; and i-Hub, for e-KYC services.
In an increasingly digitalised world, this partnership aims to provide UEMOA populations with effective and secure digital identity solutions, such as Open Banking, remote customer identification (e-KYC) and authentication solutions, among other things.
Minayegnan Coulibaly, CEO of GIM-UEMOA, said: "We are delighted to partner with key players from Luxembourg to strengthen trust and security in the field of digital payments for the population of UEMOA. GIMpay acts as a catalyst for banks initiatives, electronic money institutions, decentralised financial services, fintechs and national public treasuries in enhancing customer experience."
Fabrice Aresu, CEO of LuxTrust, added: "LuxTrust is motivated by the ambitious project of GIM-UEMOA, as well as the opportunity to share its experience and implement its trusted solutions within the West African ecosystem, based on a similar model implemented in Luxembourg."
Patrice Pochard, CEO of Suricate Solutions, commented: "Every week, new cyber-attacks against the West African financial sector are detected. Suricate is proud to bring GIM and GIMpay partners its expertise in cyber resilience and operational security, especially in terms of security monitoring and incident response."
Christophe Bianco, Vice-President of ACRC, added: "Suricate Solutions' services are complemented by the establishment of the first community for sharing information and best practices in cybersecurity within the African financial sector by the Africa Cybersecurity Resource Center (ACRC), of which Suricate Solutions is a member."
Claude Meurisse, CEO of LUXHUB, highlighted: "GIM-UEMOA's strategic vision of Open Banking and, tomorrow, Open Finance. Connectivity between the region's key players will enable greater financial inclusion and the development of new innovative solutions."
Pascal Morosini, CEO of i-Hub, commented: "Thanks to advanced technologies and innovation, new payment solutions are emerging. These have opened up new market segments for banks, such as the offline payments market and access to financial services for non-financialised populations. Prudential players such as the GIM-UEMOA will also contribute to the strong growth of e-payment, and to its transformation, by ensuring better regulation and interoperability of transactions, notably through a normative framework, a strengthening of KYC and its digitalisation (e-KYC), while emphasising better risk and fraud management."