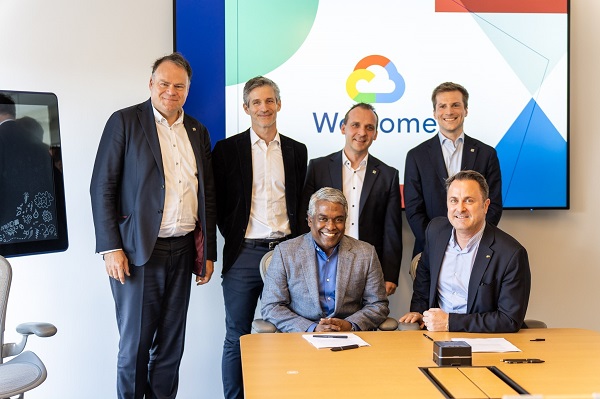 (L-R, seated): Thomas Kurian, CEO Google Cloud; Prime Minister Xavier Bettel; (L-R, standing) Gerard Hoffmann, CEO Proximus Luxembourg; Guillaume Boutin, CEO Proximus; Paul Konsbruck, CEO Luxconnect; Jacques Thill, Minister of State; Credit: ME
On Wednesday 15 March 2023, Proximus and Google Cloud announced a five-year agreement to deliver sovereign cloud services in Belgium and Luxembourg, with LuxConnect.
This partnership is intended to help securely deploy sensitive, mission-critical workloads and provide next-generation digital sovereignty controls for governments, regulated enterprises and international organisations.
Luxembourg's Prime Minister, Xavier Bettel, is currently on a trade mission to the west coast of the United States; during this trip, the Belgian-Luxembourgish partnership between Proximus Group and LuxConnect in the field of the cloud was presented during of a visit to Google in Mountainview, California.
The two companies have signed an agreement for the creation of a joint subsidiary to be based in Luxembourg with the aim of offering disconnected cloud services to public and private entities, institutions and international organisations. According to the Ministry of State, this initiative is part of the government's economic strategy for 2025 and the objective of accelerating the digitalisation of the economy for the benefit of society and enabling a safe and reliable transformation of the data economy.
According to the statement issued by Telindus, under this agreement, sovereign cloud services will support disconnected operations through Google Distributed Cloud Hosted, which does not require connectivity to Google Cloud to manage infrastructure, services, APIs or tooling. Google Cloud's sovereign solutions are designed to support data, operational and software sovereignty requirements, increasing customer control and transparency for sensitive data moving to the cloud.
"Data sovereignty is vital to European and international organisations as they digitise their operations and deploy the latest cloud innovations" said Adaire Fox-Martin, President of Google Cloud Go to Market & Head of Google Ireland. "These sovereign cloud solutions will help ensure that public and private-sector organisations can advance their digital transformation agendas using the latest technologies without compromising on the security and sovereignty of their data and systems."
Proximus plans to work with LuxConnect, a data centre service provider owned by the Luxembourg state, to bring these sovereign solutions to life in Belgium and Luxembourg.
Prime Minister Bettel notably underlined the importance of the notion of sovereignty: "The pandemic has greatly accelerated the use of cloud solutions and collaborative tools. The current geopolitical situation further intensifies the demand for highly secure technologies. I am proud that this Belgian-Luxembourgish cooperation will be a European pioneer in terms of sovereign cloud." He added: "Sovereign cloud has been on Luxembourg's digital agenda for many years and will fill an important gap in our strategy to become a trusted digital hub from which we serve the most demanding public and private clients."
"We are extremely proud to announce the first Google cloud disconnected solution in the Belux region. This is a major milestone as Proximus, partnering notably with LuxConnect, will be able to guarantee full operational sovereignty for its clients – on EU's terms. Proximus will moreover leverage its vast cloud services experience in order to bring these disconnected cloud services to the Belgium and Luxembourg markets" said Guillaume Boutin, CEO of Proximus.
"This agreement combines the strengths of both partners - Google Cloud's trusted leadership and innovation with the power of Proximus' experienced teams to deliver a unique offering in the region" said Paul Konsbruck, CEO of LuxConnect.
During the PM Bettel's meeting with Thomas Kurian, the Google project in Luxembourg in the field of cloud, cyber security and artificial intelligence was confirmed. During this meeting, the CEO of Google Cloud declared a commitment to the creation of a Google entity in Luxembourg: "Technology is driving economic progress around the world. Google's Cloud Computing platform provides state-of-the-art technology to help businesses and governments modernize their information technology systems, process data and build applications using artificial intelligence, and protect and keep data and citizens safe with integrated cybersecurity tools. go-to-market teams (presence of a sales and promotion team) based in Luxembourg and Europe that will help our customers and partners adopt these technologies, and, in collaboration with government and educational institutions, to establish centres of excellence in artificial intelligence, cybersecurity and other advanced technologies."