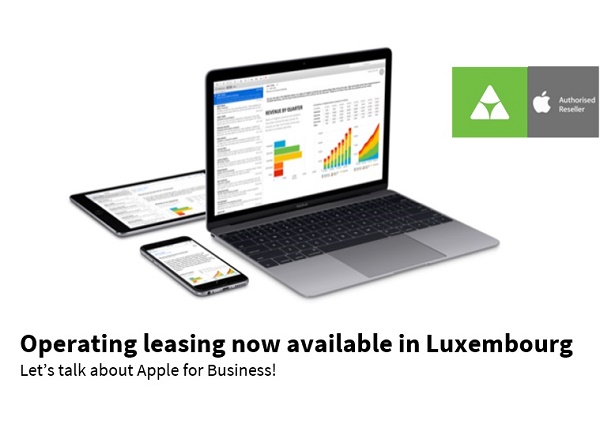 Dimension Data has announced that it is the first and only company offering operational leasing for Apple products to businesses in Luxembourg.

Until now, the main stumbling blocks to the massive adoption of Apple devices in the enterprise sphere were their acquisition cost and their integration within the existing ecosystem. Thanks to the partnership between Apple and Dimension Data, getting around these obstacles is now possible.
Apple Financial Services offers an extremely high residual value enabling businesses to acquire Apple devices at a very attractive TCO (Total Cost of Ownership). There are multiple benefits to that:
- Businesses are assured to always have material at the cutting edge of technology and to optimise its costs thanks to a shorter replacement cycle. It also enables them to attract new talents.

- Employees have the possibility to work with modern and innovative tools which suit their needs.
This leasing offering concerns Apple's entire range of products (hardware, software), as well as non-Apple products such as MDM (Mobile Device Management) and all peripheral devices of the work station.
Once the acquisition cost obstacle is bypassed, the integration challenge remains. And that is where Dimension Data's added value takes on its full meaning. Indeed, Dimension Data and its iOS, macOS, security, network and development experts will enable clients to integrate devices in an optimised and transparent way through collaborative workshops.

Dimension Data helps businesses to integrate Apple devices and to calculate their return on investment so that they can fully benefit from Apple Financial Services' advantages.