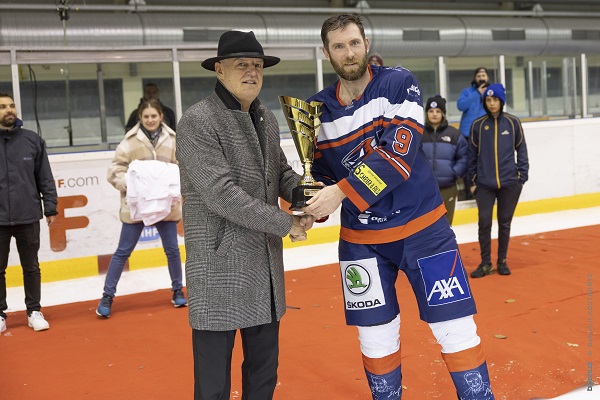 Captain Colm Cannon (right) receives the national championship trophy on behalf of Tornado Luxembourg; Credit: Bohumil Kostohryz
The Luxembourg Hockey League (LHL) finals took place during a "Weekend of Hockey" event at Kockelscheuer Ice Rink on Saturday 1 and Sunday 2 April 2023.
Tornado Luxembourg regained the title of national champions from Beaufort Knights after winning the first-division final 8-2. For the first time, there was also a second-division trophy, which went to Cool Puckers, who beat Silverbacks Luxembourg 4-0 in their final.
Whilst there had been a national championship for many years in Luxembourg, the 2021/22 season had seen the launch of a larger Luxembourgish championship (with more than two teams) in the new LHL format. With Kockelshcheuer unavailable at that time, the event went ahead at Ice Park Beaufort. For the 2022/23 season, the LHL came back bigger and better. As Liam McEvoy, Media Manager of the Luxembourg Ice Hockey Federation, explained to Chronicle.lu, this season's championship built on last year's success and attracted a few sponsors. In future, the organisers are hoping for greater sponsorship as the event becomes better known and seen as an "opportunity rather than a gamble".
Liam McEvoy described the concept of holding the LHL finals during a "Weekend of Hockey" as "a very good one", as it offered players, including those from smaller teams, an "opportunity to play not only in that environment of a tournament but in front of a large audience." His hope is that all current and future players, including children, in Luxembourg consider the national championship as "something they should strive for", which has "not always been the case" - with the focus traditionally being on the French and Belgian leagues. He confirmed that many people (including himself) involved in the sport are "very keen on professionalising" ice hockey in Luxembourg, adding that the LHL was "a first really good step".
He added that there was the possibility of "build[ing] an event" around the LHL, with even more entertainment- the recent finals brought a light show to a Luxembourg ice hockey game for the first time.
LHL Commissioner Gilles Mangen had noted in an interview at the "Weekend of Hockey" that the turnout was even greater than expected, citing "record ticket sales". He mentioned that the organisers had gathered a lot of ideas and feedback to consider for the coming seasons.
Among the attendees at the finals last weekend was Luxembourg's Prime Minister Xavier Bettel, who delivered a speech ahead of the Division 1 final and took part in the puck drop ceremony, before watching the games from the stands with the other spectators.
The next big event for Luxembourg's ice hockey players will be the International Ice Hockey Federation (IIHF) Division 3A World Championships, which will see the Lions (men's national team) travel to compete in Cape Town, South Africa in two weeks.