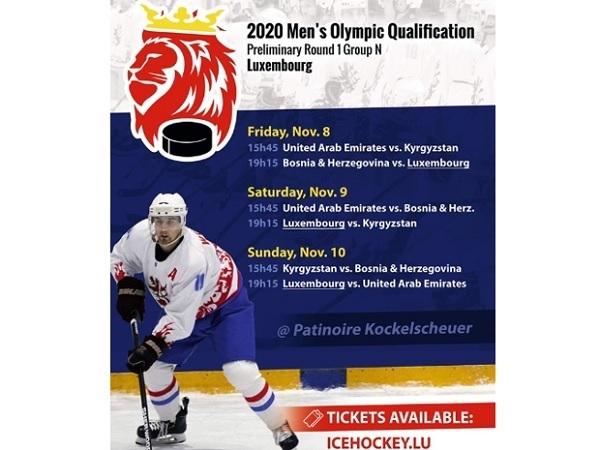 Luxembourg is set to host the Preliminary Round 1 Group N of the 2022 Men's Olympic Ice Hockey Qualification this coming weekend, from Friday 8 to Sunday 10 November 2019, at the ice rink in Kockelscheuer.
Also in Group N are the UAE, Kyrgyzstan and Bosnia and Herzegovina.
The hosts (China) along with the top eight ranked teams in the world rankings (Canada, Russia, Finland, Sweden, Czech Republic, US, Germany, Switzerland) receive automatic berths at the Olympics, with all other teams having the opportunity to qualify for the remaining three spots. There are 6 groups in the three preliminary qualification rounds, with three groups in the final qualification round. The winners of both the Preliminary Round 1 groups will advance to the Round 2 qualifiers.
Luxembourg are currently seeded #37, with UAE at #40, Bosnia and Herzegovina #41 and Kyrgyzstan #44 out of the 44 teams seeded worldwide.
Schedule:
Fri 8 Nov:
- 15:45: UAE v Kyrgyzstan
- 19:15: Bosnia and Herzegovina v Luxembourg
Sat 9 Nov:
- 15:45: UAE v Bosnia and Herzegovina
- 19:15: Luxembourg v Kyrgyzstan
Sun 10 Nov:
- 15:45: Kyrgyzstan v Bosnia and Herzegovina
- 19:15: Luxembourg v UAE
Tickets cost €15/day and are available from www.icehockey.lu and at the door (limited availability).