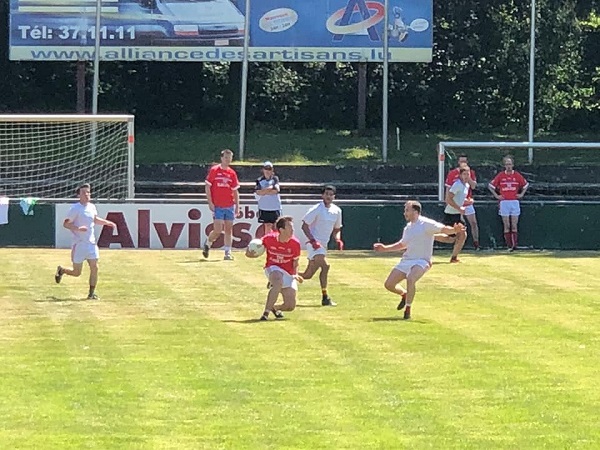 BeNeLux Men and Women's Football Championships 2018;
Last Saturday, the Luxembourg Gaelic Sports Club hosted the third round of the BeNeLux Men and Women's Football Championships at the grounds of FC Avenir Beggen, from 09:00 in the morning.
Luxembourg had not one, but three, teams playing on the day. Luxembourg A had a fantastic day and won the trophy after a tough battle with Belgium. Luxembourg B also had a great day, making the finals and finishing 4th. Luxembourg's Gary Healy won the player of the tournament award. And Luxembourg's Women's team had some great matches throughout the day, with Belgium GAA taking home the cup after winning in the final against Holland Ladies GAA.
The tournament was played in very hot conditions, with plenty of water on tap for the players, volunteers and supporters alike.
Ireland's Ambassador to Luxembourg, Peadar Carpenter, attended the tournament and presented the prizes to the winners.
This coming weekend, the Gaelic Sports Club Luxembourg travels to Hamburg to compete in Hurling and Camogie.