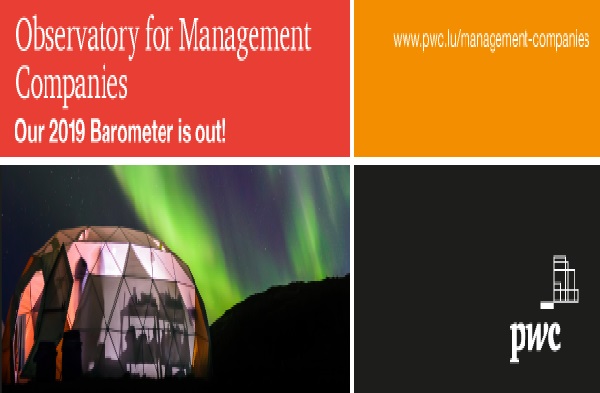 PwC Luxembourg's 2019 barometer on management companies (ManCo) has revealed a 4.5% increase from 2018, mainly fuelled by UCITS ManCos employment.
The results continue to look positive for both licensed AIFMs and UCITS ManCos based in the Grand Duchy, not least because 83% of participants in the PwC ManCo Survey 2019 said that they see Luxembourg as a future hub for European ManCos.
The PwC ManCo Index measures ManCo's activities in Luxembourg by considering the growth in the number of UCITS ManCos and licensed AIFMs, the evolution of their Assets under Management (AuM) and the number of employees in UCITS ManCos. In December 2018, the Index marked 203 points, an increase of 4.5% over a year and the biggest level ever reached. This growth is mainly explained by a 12% increase in UCITS ManCos employment (4,874 staff as of 31 December 2018). This positive trend in ManCos employment should continue in 2019, with the increased substance requirements following the implementation of the CSSF Circular 18/698 released in August 2018.
In addition, PwC Luxembourg has observed that the Grand Duchy attracted nineteen new entities in 2018, confirming the established position of the country as the preferred Asset Management hub in Europe.
The evolution of AuM by ManCos similarly demonstrated a flattening over the one-year period as of 31 December 2017. At the end of December 2018, the total AuM of Luxembourg ManCos (€ billion) reached 3,398, whereas of 31 December 2017, the total AuM of Luxembourg ManCos reached 3,401. This flattening is positive in comparison to the global evolution of AuM in the Luxembourg funds which decreased slightly within the same period (down €95 billion).
According to the Barometer, the top 5 ManCos as of 31 December 2018 (in terms of AuM) were: JPMorgan Asset Management (Europe) S.à r.l.; DWS Investment S.A.; Amundi Luxembourg S.A. (up one place); BlackRock (Luxembourg) S.A. (down one place); UBS Fund Management (Luxembourg) S.A.
The 2019 Barometer is available on the PwC Luxembourg website