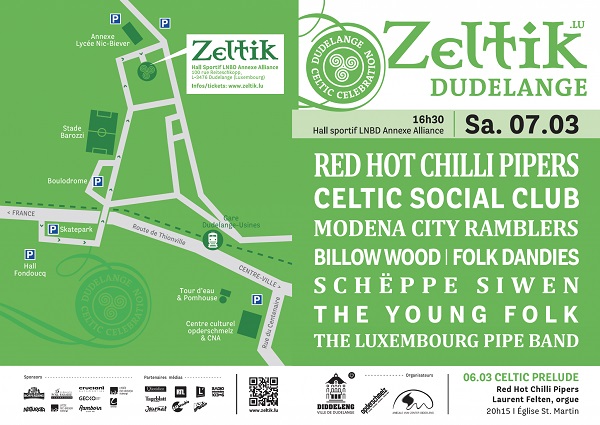 The organisers of the Zeltik festival have announced that a 23rd edition will be taking place on Saturday 7 March 2020 from 16:30 at the LNBD (Lycée Nic Biever) Annexe Alliance sports centre in Dudelange.
This year's Zeltik festival, the only festival in the Greater Region dedicated to Celtic music, once again promises a broad musical programme.
After the festival's traditional opening with the Celtic Prelude on Friday 6 March 2020 in St. Martin's Church (Dudelange), Saturday will be all about exuberance, upbeat music and discoveries. Eight bands will take to the stage with their original and energetic performances for this unique evening of Celtic music.
Programme
- Fri. 6 March 2020 @ 20:15 (St. Martin's Church): Celtic Prelude featuring Red Hot Chili Pipers and Laurent Felten on the organ. Free entry with a Zeltik 2020 ticket. More info.: www.zeltik.lu/prelude.
- Sat. 7 March 2020 @ 16:30 - 01:00 (LNBD): Celtic Celebration featuring The Folk Dandies (17:00), Luxembourg Pipe Band (17:45 & 22:40), The Young Folk (18:10), Billow Wood (19:15 & 20:55), Modena City Ramblers (19:50), Celtic Social Club (21:30), Schëppe Siwen (22:50) and Red Hot Chili Pipers (23:45).
Band information
- Red Hot Chili Pipers have reached incredible heights with their ground-breaking fusion of traditional Scottish music and rock/pop anthems, proudly baptised "bagrock". The Chilis have never been more in demand for their infectious style of feel-good music which appeals to people of all ages across the world.
- Celtic Social Club is a Franco-British folk celebration without borders. The French band has made a name for itself over the years, combining extensive touring and performances at international world and rock festivals from Europe to New York's Grand Central Park. Always ready to set off, the Celtic Social Club had big news to report in 2018: Dan Donnelly came straight from Belfast to become their new lead singer and brought his pop and folk influence to the table.
- Modena City Ramblers are the most well-known Italian band in their genre, known for the peculiar mix of folk and world influences with ska and rock. The band has sold more than a million album copies in their last 20 years of career. Their regular performances in front of huge audiences has led the band to become a popular and steady phenomenon of the Italian rock music scene. They have performed music in English, Spanish and French.
- Schëppe Siwen is a folk-rock band from Luxembourg with Celtic influences. The eight band members stand for festive folk-rock with a clear Luxembourgish touch. Schëppe Siwen has undeniably become a true folk-rock crowd puller over the past ten years with its festive mixture of folk, rock, pop, punk, reggae and ska combined with Luxembourgish lyrics.
- Billow Wood, a neo-folk band from Western Ireland, which loves both tradition and innovation. They interpret their inventive songs on traditional instruments such as the harp, fiddle, tin whistle, bodhrán, accordion and guitar, connecting their lyrics to typical Irish folk sounds. Their songs are inspired by what moves the Irish youth of today.
- The Young Folk is composed of duo Anthony Furey and Paul Butler. Both accomplished songwriters and singers in their own right, Anthony is an acoustic/electric guitarist and Paul plays keys for the band. Both are multi-instrumentalists, having been creating music together for twelve years now. They are joined by Alex Borwick on mandolin, trombone and percussion and Marc Aubele on bass and synths. The Young Folk are going through a rebirth and 2020 promises to be an exciting year for the band.
- Folk Dandies can be described as a steampunk marching band. Equipped with amplifiers on their backs and dressed in pure steampunk style, Folk Dandies bring a folk-rock repertoire with arrangements of Celtic and Bluegrass influences. The Belgian band will open the Zeltik 2020 with an energetic musical performance, transporting you straight into a distant steampunk future.
- The Luxembourg Pipe Band, founded in 2006, draws from the Scottish, Breton, Irish and Gaelic musical traditions. The first Luxembourgish band in the Celtic genre, the Luxembourg Pipe Band will present a blend of bagpipes, percussion and a few surprises at this year's Zeltik festival.
The Zeltik festival is organised by the town of Dudelange in cooperation with Amicale du Centre d'Intervention Dudelange.
Pre-sale tickets cost €25 (plus taxes). Box office tickets (from 16:30) cost €30. Tickets can be purchased in advance from the following outlets: Dudelange opderschmelz cultural centre; Dudelange town hall; box office on Town Hall Square (from 04/03 to 06/03/2020 between 10:00 and 18:00); www.opderschmelz.lu; www.e-ticket.lu; www.luxembourg-ticket.lu; www.ticket-regional.de; www.ticketmaster.fr; www.fnacspectacles.com.
For further information, visit www.zeltik.lu.