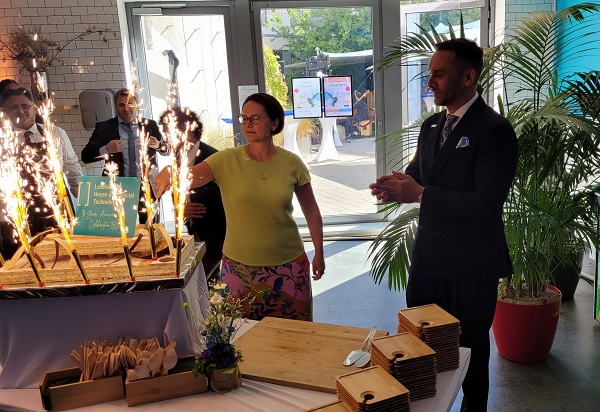 Yuriko Backes, Luxembourg's Minister of Finance, and Nasir Zubairi, CEO of LHoFT, cut LHoFT's 5th birthday cake; Credit: Jazmin Campbell
The Luxembourg House of Financial Technology (LHoFT) celebrated its fifth anniversary with a special event on its premises in Luxembourg-Bonnevoie on Friday evening.
Lisa Burke moderated this event, the structure of which she compared to LHoFT itself: the first part was "a serious, hardworking" part; the second part represented LHoFT's "dynamic effervescent community" in the form of the "legendary" Fintech Friday event.
Guest speaker Yuriko Backes, Luxembourg's Minister of Finance and Chairwoman and patron of LHoFT, praised the LHoFT team, as well as her predecessor, former Finance Minister Pierre Gramegna, and Nicolas Mackel, CEO of Luxembourg for Finance (LFF), and their teams, for "creating this true success story from scratch". She described LHoFT as "the beating heart of Luxembourg's fintech community". She also thanked the founding partners: "This public-private partnership is what makes it a success". Minister Backes went on to highlight five key areas in which she and her team hoped to support LHoFT in the next five years: talent, diversity, the green transition, the conducive regulatory framework and finding mutual solutions to address common challenges.
Next to take the stage was Philipp von Restorff, Deputy CEO of LFF, who relayed the message of Nicolas Mackel (who was unable to attend the event) that the goal of creating LHoFT had been "not to make Luxembourg the capital of fintech, but to make available all the solutions developed here and abroad to local institutions [and] to help the industry successfully overcome the challenges and seize the many opportunities". Mr von Restorff also shared the message of Lynn Robbroeckx, Secretary General CSR at LFF, who felt that LHoFT had "written the fintech story in Luxembourg" with its "impressive" team. Mr von Restorff congratulated the LHoFT team, wished them a happy anniversary and hoped that they would "continue to write this successful fintech story".
In his speech, LHoFT CEO Nasir Zubairi noted that the past five years had gone by very quickly, adding that it had been "a thrilling ride". He stressed the importance of having passionate people in achieving incredible things and making a difference – a passion that is certainly present in Luxembourg. He emphasised that LHoFT had focused on the community since its inception, a strength that has allowed it to develop a "valuable network". Mr Zubairi thanked all those involved in making LHoFT a success over the past five years, particularly the Ministry of Finance, LFF, the LHoFT team and board members, the Luxembourg Chamber of Commerce, partners and fintech innovators and entrepreneurs, among others. "The support of the community has made all the difference", he added.
Looking to the future, Mr Zubairi condensed the five focus areas highlighted by Minister Backes into three key areas for this next chapter of LHoFT ("LHoFT 2.0"): talent, education and insights. He noted that there would be an increased emphasis on education, for instance helping to overcome the barriers and fears that still exist in organisations regarding changes to traditional finance, as well as continuing LHoFT's work in the field of sustainable finance.
He also took this occasion to launch LHoFT's new brand identity. The changes have already been made on social media and a new website is set to launch later this year. Finally, Mr Zubairi invited his entire team on stage for a round of applause for their "unrivalled" commitment to and passion for making a difference.
The first part of the celebrations also included the screening of a video featuring messages from key stakeholders involved in the success of LHoFT, including Pierre Gramegna, who described LHoFT as "a launchpad for success" and a "phenomenal success story", and Nicolas Mackel, who described it as "dynamic", "creative" and "necessary". The video also highlighted the fact that there are currently over 250 fintechs based in Luxembourg; 146 companies have passed through the LHoFT facility in the past five years.
The formal part of this event continued with conversations between moderator Lisa Burke and Luc Falempin, CEO of Tokeny, one of the first companies to join LHoFT (four and a half years ago), and Nadia Mazari, Partner at Schiltz & Schiltz, and Jonathan Prince, Co-Founder of Finologee, both of whom knew about LHoFT before it actually came into existence. The speakers shared their thoughts on the first five years of LHoFT and all agreed that it was a success story.
Surprise guest David Goldrake, a professional magician originally from Luxembourg who flew in from Las Vegas for this event, then invited the some 100 guests to take part in a short magic show, during which they had to follow his instructions in sorting and tearing up pieces of paper (on which four LHoFT values were written: passion; fintech; Luxembourg; community) until they ended up with the two halves that together spelled "Passion", a key ingredient in making LHoFT 2.0 a success.
Nasir Zubairi and Minister Backes went on to cut the LHoFT birthday cake, before inviting attendess to a networking reception. The festivities continued into the evening with Fintech Friday, in the presence of about 200 additional guests.