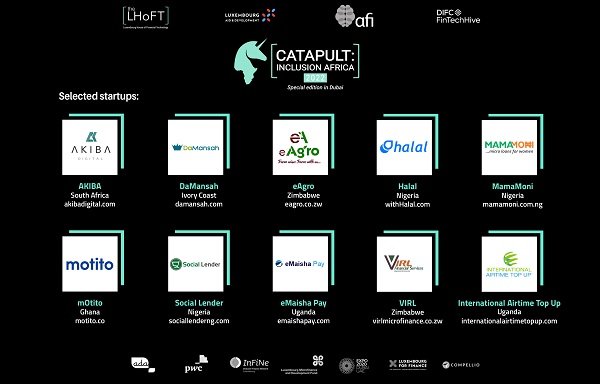 Credit: LHoFT
The LHoFT Foundation has revealed the ten fintech startups selected to take part in the 2022 edition of its CATAPULT: Inclusion Africa programme.
Developed by the LHoFT Foundation, CATAPULT: Inclusion Africa is designed for innovative technology companies focused on financial inclusion in Africa. The programme aligns with the sustainability goals of Luxembourg's finance centre and seeks to create real impact in relation to financial inclusion, by providing participant firms with education and insight as well as connectivity, leveraging Luxembourg's experienced ecosystem of entrepreneurs, finance professionals and financial inclusion and impact specialists.
This special edition of CATAPULT: Inclusion Africa will be held in Dubai in the United Arab Emirates (UAE) and is sponsored by the Directorate for Development and Humanitarian Affairs of Luxembourg's Ministry of Foreign and European Affairs, with support from the Alliance for Financial Inclusion as well as other strategic partners such as ADA, AFI, InFine, DIFC FinTech Hive, PwC, Luxembourg Microfinance and Development Fund, Luxembourg For Finance, Dubai UAE Expo 2020 and Compellio.
This Dubai edition of CATAPULT: Inclusion Africa will leverage Luxembourg's microfinance and fintech ecosystems with a host of mentors and specialists from the Grand Duchy flying to Dubai to provide their contribution to the programme. Key stakeholders, partners and mentors from the Middle East and North Africa (MENA) region will also support the programme.
During the three-day programme, expert speakers and mentors from Luxembourg and the UAE will support the selected firms in developing their businesses and achieving their inclusion goals, creating synergies between them, partners, sponsors, investors, Microfinance institutions (MFI) and Public Financial Institutions (PFIs).
Franz Fayot, Luxembourg's Minister of the Economy and Minister for Development Cooperation and Humanitarian Affairs, stated: "Fintechs can empower and target groups that have been left behind by the traditional financial services. As such, the Luxembourg Development Cooperation continues to actively support game-changing inclusive finance ventures. It specifically targets companies that focus on financial inclusion in Africa and the MENA region, while leveraging Luxembourg's Inclusive Finance and Fintech ecosystem".
Nasir Zubairi, CEO of the LHoFT, added: "We are excited to deliver our Catapult programme in Dubai, working with incredible local partners such as the DIFC and Fintech Hive as well as our key Luxembourg sponsor, The Directorate for Development and Humanitarian Aid. We have an incredible lineup of participants picked from over 130 applications and we look forward to working with them and learning about their businesses. This a great demonstration of international collaboration between the UAE and Luxembourg, and we believe all mentors and stakeholders involved will benefit from the ecosystems coming together through the Catapult programme".
Selected fintech startups:
AKIBA (Johannesburg, South Africa), an alternative scoring that powers credit for small businesses and society. The startup uses alternative datasets to provide inclusive scores that allow lenders to score people and small businesses that cannot be reached by traditional credit bureaus;
Damansah (Abidjan, Ivory Coast), a startup building an alternative credit scoring infrastructure that connects credit providers to small businesses and other thin filed consumers easier, with technology to increase the growth rate of micro and small enterprises in Africa;
Social Lender (Lagos, Nigeria), a startup which helps financial institutions to offer financial services based on social reputation to individuals who are underbanked or have little or no access to formal financial services;
MamaMoni Limited (Lagos, Nigeria), a startup which provides micro loans to low-income female entrepreneurs in rural and urban areas in Nigeria;
eAgro (Harare, Zimbabwe), a startup using data analytics and machine learning to create low-cost financial credit products tailored to unbanked and underserved farmers' needs thus closing the gap between financial institutions such as banks, MFIs, contract farming organisations, government agencies, etc.;
eMaisha Pay (Kampala, Uganda), a mobile platform that leverages machine learning, alternative data and psychometric parameters to credit score small and medium-sized enterprises (SMEs) in Africa;
mOtito (Accra, Ghana), a "buy now, pay later" platform which provides interest-free credit at point-of-sale for the African market;
Halal Payment (Lagos, Nigeria), an all-inclusive digital payments service platform leveraging on Islamic banking system to provide shariah based financing for SMEs to scale their businesses, create jobs, alleviate poverty and enhance economic productivity at large;
VIRL Rural & Social Financial Services (Harare, Zimbabwe), a startup that provides loans to small holder farmers, micro and small enterprises;
International Airtime Top Up (Entebbe, Uganda), an inclusive ICT and mobile financial services company that helps increase financial inclusion both locally and globally with simple, scalable and sustainable solutions.