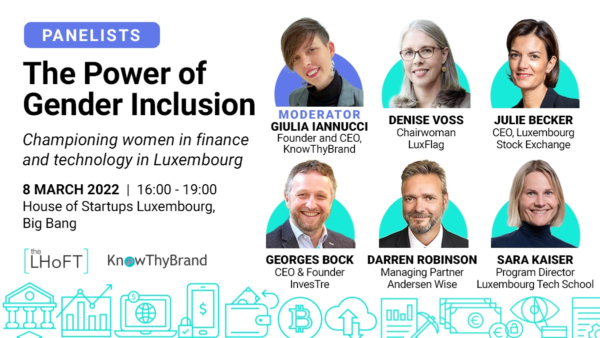 Credit: LHoFT
On Tuesday 8 March 2022, on the occasion of International Women's Day, the LHoFT Foundation has announced the launch of its campaign for gender inclusivity, in partnership with the social enterprise KnowthyBrand.
During the launch event, some of the critical challenges and possible solutions related to diversity in the sectors of Finance and Technology will be highlighted and discussed.
Research shows that gender diversity is critical to the success of any organisation. For example, companies with strong female leadership generated a 10.1% return on equity per year, compared to a 7.4% return on equity per year for those without strong female leadership (Pipeline 2020).
Unfortunately, real gender diversity in business if far from optimal. This is particularly true in critical sectors like Finance and Technology, sectors that are vital for Luxembourg economy and sectors in which women are severely underrepresented:
women hold only 20% of the executive roles in Financial enterprises;
and are just 27% of the total STEM workers. (The Tokenist 2021)
The LHoFT and KnowThyBrand have committed to work together to drive a real impact.
During the launch event, Luxembourg's Minister of Finance, Yuriko Backes, Chairwoman of LuxFlag, Denise Voss, CEO of the Luxembourg Stock Exchange, Julie Becker, and representatives from Kids Life Skills and Luxembourg Tech School are amongst those who will take the stage to share their perspectives and their thoughts on how to drive meaningful change.
Minister Backes, said: "In order to succeed in the digital and green transformation of our economies, we will need new ideas, new approaches to problem solving and diversity of thinking. By failing to sufficiently encourage and support women in finance and technology, we are in fact squandering opportunities for future growth. We therefore need to make sure that the next generation of innovators and leaders is more diverse, more female than the current one."
Nasir Zubairi, CEO of the LHoFT Foundation, said: "Diversity in the workforce is key to success. We need to create the right environment and opportunities for all and inspire people to take steps In a direction that may traditionally have seemed blocked. Finance and Technology in particular need addressing; both sectors are still dominated by men, and we, The LHoFT, want to do what we can, leveraging our core competencies and expertise, to level the playing field."
Giulia Iannucci, Founder and CEO of KnowThyBrand, said: "Research tells us that gender diversity is an essential factor for the growth of any organisation and that the level of female representation is strongly correlated to business performance, innovation and positive impact. And yet, real gender diversity is still elusive and critical disparities continue to exist. We want this programme to be a catalyst for a concrete and sustainable change."