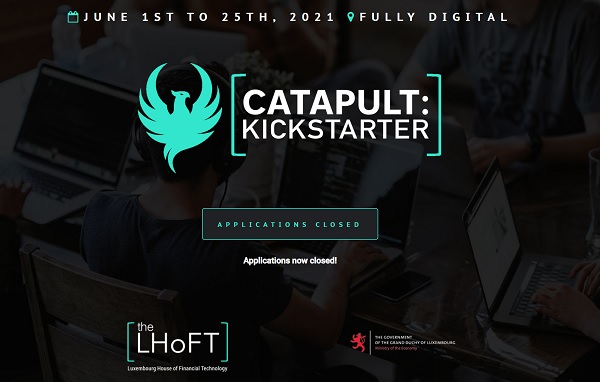 Luxembourg's dedicated fintech centre, the LHoFT Foundation, has announced the ten fintech startups selected to take part in the 2021 digital edition of CATAPULT: Kickstarter, a new four-week acceleration bootcamp.
Over recent years, Luxembourg has built up a supportive and robust fintech startup ecosystem through collaboration between key public and private decision makers. The Grand Duchy has developed a critical support infrastructure that includes incubation facilities, accessibility to a mix of public and private funds and engaged and open stakeholders from major international institutions that are willing to advise, collaborate and partner with new financial technology firms.
Aligning with Luxembourg's ambition to create a leading startup and entrepreneurial nation, Luxembourg's Ministry of the Economy, in partnership with the LHoFT, have built the Catapult: Kickstarter programme to further catalyse Fintech innovation.
Targeting ten fintech startups from around the world, Catapult: Kickstarter 2021 is a programme that provides support and critical guidance to the selected participant firms in their growth. In order to effectively leverage the strengths of Luxembourg's community and capabilities, the selected firms, in general, focus on delivering services to financial institutions (B2B), with particular emphasis on Insurtech, Regtech, Fundtech as well as ESG (Greentech). B2C payments is also represented in the inaugural cohort of Catapult: Kickstarter.
The programme will help the fintech entrepreneurs to develop their business models with a focus on business scaling and risk management. Catapult: Kickstarter builds on the success and learnings from the Catapult: Inclusion Africa programme that is now in its fourth year. The Catapult: Kickstarter programme is tailored to the particular stage of the participating fintechs and is structured around classroom tutorials, experts talks, customer discovery, challenges, one-to-one meetings, pitching sessions, mentorship sessions and networking events.
Luxembourg's financial industry has shown enthusiasm about getting involved in the programme, with strategic partners such as Luxembourg For Finance (LFF), Expon Capital, Middlegame Ventures (MGV), alongside a plethora of institutions providing insight to the selected firms and actively engaging with them on projects.
The programme will begin on Tuesday 1 June 2021 and it will close with a final public pitching event on Friday 25 June 2021. To register to attend, visit us02web.zoom.us/meeting/register/tZUuc-qsqDMjH9wHXzaCNR_F90huwPJwA1VN.
Five of the ten participating firms will be able to access up to €50,000 in subsidies from the Ministry of the Economy, based on fulfilment of eligibility criteria.
Nasir Zubairi, CEO of the LHoFT, commented: "We are very excited by the Catapult: Kickstarter programme and the firms that are participating. The quality of the firms is clear. We believe the participants will gain a lot from the programme and from connecting with the Luxembourg finance community; vice versa, we believe these firms also have a lot to offer the financial centre in solving key challenges that institutions are experiencing. We were amazed to have received 107 applications from over 36 countries for this first edition of the programme; it is really FINTASTIC to see such interest in Luxembourg Fintech and the LHoFT".
Selected fintech startups:
unum IOS (Luxembourg), which develops governance technology solutions for the investment fund management market
Go2insure (Slovenia) brand by Alifenet, which is a team of insurance professionals with more than 60 years of combined experience
Greenomy (Belgium), a regtech SaaS platform enabling companies and financial institutions to comply with new EU sustainable finance rules
Meliora (Luxembourg), which grants alternatives managers much broader market access, facilitated through pooling in a Digitally Administered Personalised Master Trust Structure
Paypact (Romania), the AirHelp of motor insurance claims
EthicsGrade (UK), which is building an AI based 'watermelon' detection system. A 'watermelon' is a company that looks 'green' on the outside, but is anything but on closer analysis
Autopay Mobility (Poland), a startup which provides fully touchless, seamless, and automatic payments for mobility
NodeVenture - TMIA GmbH (Austria), a unique custody solution for crypto assets
Cygnetise Limited (UK), which offers firms a web based application to digitally manage authorised signatories
Divizend (Germany), the leading international wealth-tax fintech platform for the fastest way to reclaim foreign dividend withholding taxes.