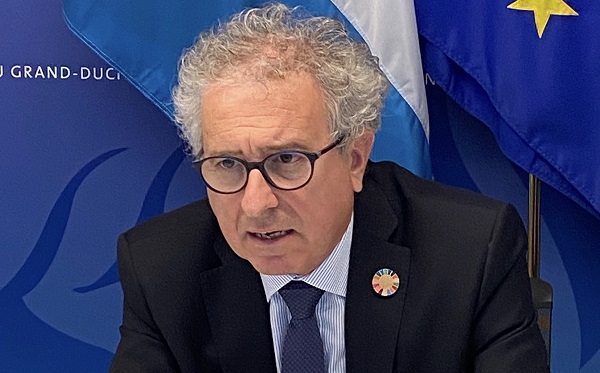 Pierre Gramegna, Luxembourg's Minister of Finance; Credit: MFIN
Luxembourg's Minister of Finance, Pierre Gramegna, took part in the meetings of the Eurogroup and of the Ecofin Council of Finance Ministers, which were held by video conference on 3 and 4 November 2020.
Ministers took stock of the economic and financial impact of the COVID-19 pandemic as many European countries once again adopt health restrictions to stem the second wave.
In his intervention at the Eurogroup meeting, Minister Pierre Gramegna noted: "The entire continent is facing the challenges of a second wave of the coronavirus. As long as the availability of vaccines remains uncertain, no one can anticipate the future course of the pandemic. Above all, we must not give rise to false hopes and anticipations that would not materialise, at the risk of favouring a slackening in the cautious behaviour of populations in the face of the spread of the pandemic".
Luxembourg's Finance Minister continued: "I remain convinced that on the basis of the measures we took at the start of the year, we will be able to contain the economic impact of the pandemic. Our response at the European level is appropriate, but we must move forward quickly to deploy the three European safety nets to the tune of €540 billion in favour of states, employees and businesses. At the national level, recourse to an accommodating fiscal policy remains inevitable to mitigate the effects of the pandemic in a targeted manner".
The nineteen euro area finance ministers also had a first exchange of views on the work underway at the European Central Bank (ECB) on the subject of a digital euro, as well as the advantages and requirements for the introduction of such a currency.
During the Ecofin meeting, the 27 ministers discussed the European Commission's action plan aimed at strengthening the fight against money laundering and the financing of terrorism.
Minister Pierre Gramegna congratulated the German Presidency on the efforts made in this area and stressed: "Strengthening the fight against money laundering and the financing of terrorism at the European level remains a priority. Luxembourg is in favour of the creation of a new European authority, which will have to draw inspiration from the good experiences and modalities of cooperation between national and European authorities in the field of banking supervision. The risks of money laundering and terrorist financing are not limited to the financial sector, however, and a cross-sectoral and inclusive approach is needed. The scope of action of this future European authority will therefore have to go beyond the financial sector and also include players from other sectors of activity".
Luxembourg's Finance Minister also recalled that there is a need to further harmonise the related legislation by resorting to a European regulation which will be of direct application.