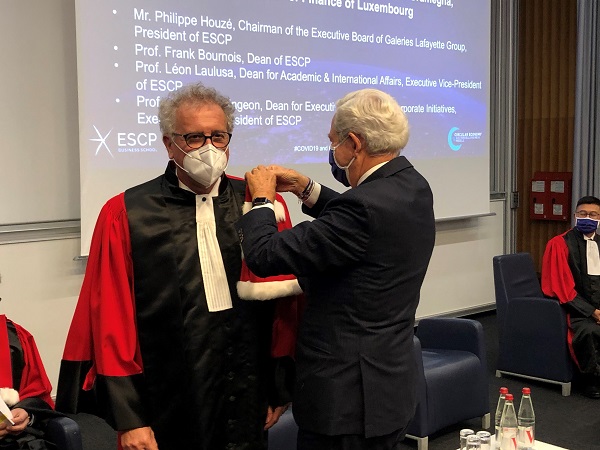 L-R: Pierre Gramegna, Luxembourg's Minister of Finance; Philippe Houzé, President of ESCP Business School; Credit: MFIN
On Monday 28 September 2020, the École supérieure de commerce de Paris (ESCP), the world's oldest business school, awarded Luxembourg's Minister of Finance, Pierre Gramegna, an honorary degree of doctor honoris causa.
Luxembourg's Finance Minister travelled to Paris to give a conference on the future of the European Union as part of the ESCP's conference series "Stand up for a sustainable world". On this occasion, he was awarded the honorary degree of doctor honoris causa.
In his conference, entitled "Post-COVID: solidarity and sustainability shape the future of the EU", Minister Pierre Gramegna underlined the importance of European solidarity to ensure a sustainable and sustained recovery and guarantee the completion of the dual green and digital transition. He stated: "Only a concerted approach at European level combining national efforts and the various economic and budgetary policies of member countries will make it possible to consolidate the competitiveness of the single market in an increasingly connected world".
The Finance Minister concluded: "Today Europe has been able to respond to this challenge by creating exceptional, never before seen solidarity mechanisms, such as the European recovery fund. Equally remarkable is the fact that the EU will be able to issue common debt for the first time in its history".
Following his conference, Minister Pierre Gramegna was awarded the title of doctor honoris causa. Frank Bournois, Dean of ESCP, underlined that the school was "very happy to award the title of doctor honoris causa to Pierre Gramegna for his leadership in the fields of finance and diplomacy as well as for his commitment to the evolution of sustainable development in Luxembourg. As a European business school, we are proud to welcome Luxembourg, a founding country of the European Union".
Minister Pierre Gramegna also had meetings with Laurence Boone, Chief Economist of the OECD, and Bertrand Badré, CEO and Founder of Blue like an Orange Sustainable Capital, an investment fund that aims to finance the United Nations' Sustainable Development Goals (SDGs) with market level financial return.