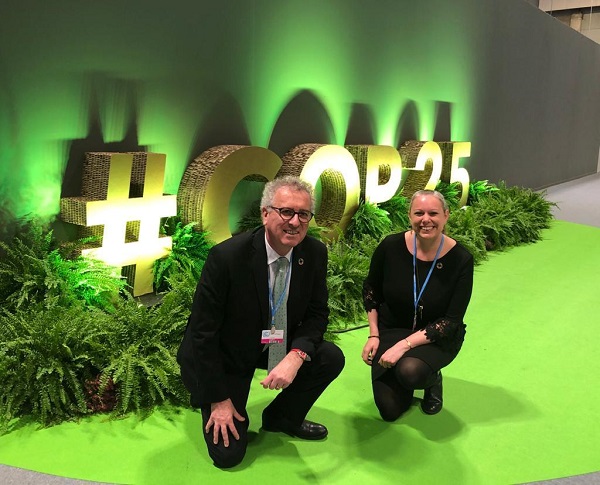 L-R: Pierre Gramegna, Minister of Finance; Carole Dieschbourg, Minister of the Environment, Climate and Sustainable Development; Credit: MFIN
From 9 to 10 December 2019, Luxembourg's Minister of Finance, Pierre Gramegna, travelled to Madrid to attend the 25th UN Climate Change Conference (COP25).
Pierre Gramegna participated, together with Carole Dieschbourg, Minister of the Environment, Climate and Sustainable Development, and Werner Hoyer, President of the European Investment Bank (EIB), in a conference to mark the launch of the second phase of the EIB-Luxembourg climate finance platform. Extended for another five years and with an additional €40 million from Luxembourg, this joint initiative aims to mobilise and support investment in the fight against climate change at the international level focusing on mitigation and adaptation to its effects.
The Minister of Finance also participated in the meeting of the Coalition of Finance Ministers for Climate Action, an initiative launched in April 2019 on the sidelines of the Spring Meetings of the World Bank Group and the International Monetary Fund (IMF), of which Luxembourg is a founding member. On the occasion of COP25, the finance ministers presented the Santiago Action Plan, which sets the priorities for the year 2020 of the member countries of the coalition in their efforts to mobilise and align the necessary financing to implement their national climate action plans, adopt best practices such as budgeting and climate strategies to support investments and integrate climate risks into their economic planning.
On this occasion, Minister Gramegna took part in a panel discussion on the topic of infrastructure investments and climate risks. He advocated for a smart regulatory framework that encourages long-term investment, particularly in climate-resilient and sustainable infrastructure projects, by institutional investors, such as insurance companies.
In addition, Pierre Gramegna met with Ignacio Briones Rojas, Chile's new finance minister and co-chair of the coalition of finance ministers for climate action, to discuss the coalition's work and priorities and explore avenues for collaboration between Chile and Luxembourg in the field of sustainable finance. Indeed, Chile has just listed its first green bonds on the Luxembourg Green Exchange. Together with Carole Dieschbourg, Pierre Gramegna also met with Yannick Glémarec, the director of the Green Climate Fund, to which Luxembourg has just doubled its annual contribution.
Pierre Gramegna commented: "In order to avoid a worldwide financial crisis triggered by the massive devaluation of fossil fuel portfolios, it is crucial that the energy transition be accompanied by a financial transition. As an international financial centre, Luxembourg is now making a significant contribution to the mobilisation of public and private investment to unlock the thousands of billions of euros needed to fight climate change, and plays an important role in the transition from the financial system to greener and more sustainable investments".