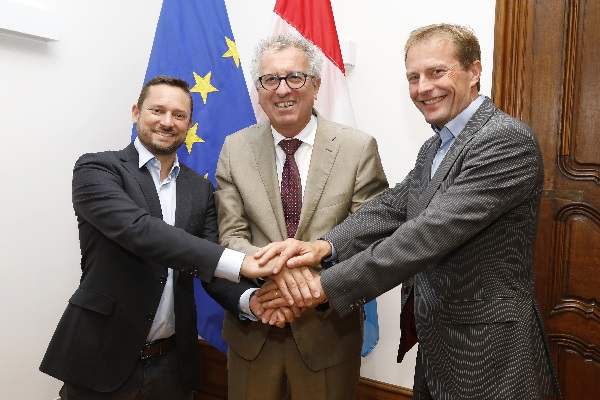 L-R: Michael Pechner, CEO of Digicash/Payconiq Luxembourg; Pierre Gramegna, Luxembourg Minister of Finance; Duke Prins, CEO of Payconiq International; Credit: Payconiq International
Payconiq International today became the first Luxembourg-headquartered payment company to obtain a Payment Initiation Service (PIS) licence.
On Tuesday, Luxembourg's Minister of Finance Pierre Gramegna handed over the country's first PIS licence to Payconiq International, making the payment company one of a handful of EU countries to obtain the licence. Under the EU Payments Directive (PSD2), as PIS becomes a regulated activity, it opens possibilities for providers, like Payconiq, to operate across the EU and to compete on an equal basis with other regulated players in the market.
Duke Prins, CEO of Payconiq, commented: "Luxembourg is our home country and we're proud to be part of its fintech community. It's exciting to receive the first PIS license and we hope to open the way for many more players".
As a PIS provider, Payconiq allows consumers to pay for their purchases and send money to their contacts through their smartphones, directly from their bank accounts.
Duke Prins explained: "This licence was a necessary step to expand our business from Benelux to Europe. [...] We are a real alternative to payment cards, as our users can make simple mobile payments on any device, just by having a bank account".
For his part, Finance Minister Pierre Gramegna, said on this occasion: "This first Payment Initiation Service licence shows that Luxembourg is ready for the PSD2 area of open banking." He added: "As a leading FinTech hub, Luxembourg is an ideal location for payment firms targeting a pan-European client base."