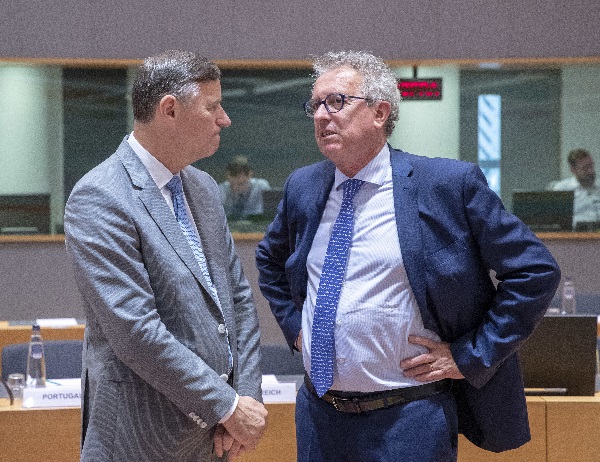 L-R: Andrej Bertoncelj, Slovenian Minister of Finance; Pierre Gramegna, Luxembourg Minister of Finance; Credit: European Union
On 8 and 9 July 2019, Luxembourg Minister of Finance Pierre Gramegna participated in the meetings of the Eurogroup and the Ecofin Council, the latter meeting for the first time under the Finnish Presidency.
On the first day, at the Eurogroup meeting, the eurozone finance ministers discussed the third report under the enhanced post-programme surveillance for Greece, the recommended fiscal stance for the euro area as well as the international role of the euro. In this context, Pierre Gramegna underlined that "the euro has definitely emerged from its crisis of adolescence and a greater role of the single currency on the international scene benefits the European economy".
On the fiscal situation in Italy, the European Commission presented the ministers with its decision not to recommend opening an excessive deficit procedure against Rome following the measures announced by the Italian Government. Minister Gramegna welcomed the constructive dialogue between the Commission and Italy, which helped to find balanced solutions, allowing Italy to comply with the Stability and Growth Pact in 2019.
As for the Eurogroup meeting in inclusive format, the finance ministers discussed the deepening of Economic and Monetary Union, and in this context, the organisation of work in the coming months to follow up on decisions taken at the June Eurozone Summit.
Meeting at the Ecofin Council, the finance ministers of the EU27 discussed the financing of the next multiannual financial framework for the period 2021-2027 on 9 July. In this context, Minister Pierre Gramegna notably mentioned that a tax on plastics and carbon - two proposals in line with the priorities of the EU - would be avenues to explore in order to define new examples of own resources.
Finally, the ministers discussed the priorities of the new Finnish Presidency, including the development of green finance at the European level with the aim of more effectively combatting climate change.