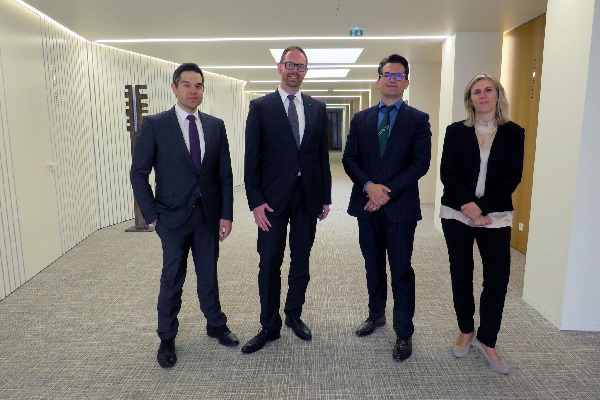 L-R: Bernard Eresch, Corporate Advisor (BIL); Jeffrey Dentzer, Head of Corporate and Institutional Banking (BIL); Arsène Jacoby, President (ODL); Simone Joachim, Secretary General (ODL); Credit: BIL
The Banque Internationale à Luxembourg (BIL) and Office du Ducroire (ODL) have signed a framework agreement aimed at increasing the issuance of loans to finance Luxembourg companies' international trade.
International growth is a real challenge for any company, but especially small and medium-sized enterprises. Researching new clients, setting up and even adapting products to the local market require big investment. Moreover, the import-export business is cash-hungry: a foreign client may ask for an extended payment deadline and in the case of a foreign supplier, a large down payment may be required. The company's ability to mobilise substantial financial resources is thus considered key.
The agreement signed between BIL and ODL, the first deal of its kind agreed between the latter and a bank, aims to answer this challenge. It facilitates companies' access to funding for import-export projects through a bank loan insurance policy that partially covers the borrower default risk.
"Through this deal with ODL, we will be able to strengthen our support for the Luxembourg economy by helping companies with their international development plans. This insurance has been eagerly awaited by businesses in the country, and we are happy to be the first bank to offer it", said Marcel Leyers, Chairman of the Executive Committee of BIL.
Arsène Jacoby, Chairman of ODL, added: "The fact that exporters often have trouble accessing the funds needed for their international development led us to launch this new product, which is supposed to provide leverage by protecting banks partially against the risk of non-reimbursement of the loans. This cover will allow banks to open higher credit facilities for Luxembourg companies' international operations, while keeping their risk at an acceptable level."
ODL's bank loan insurance will supplement BIL's range of business services. From a company's foundation to takeover, to the financing of investments and innovative or international projects, the bank will accompany small and large firms through each stage of their development.