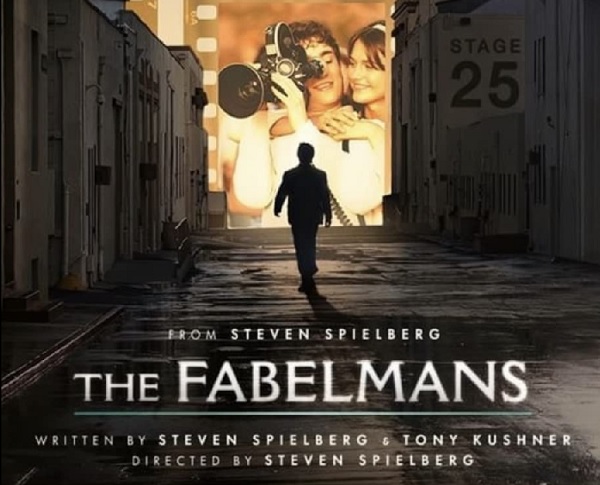 Directed and co-written by Steven Spielberg (Jaws; Schindler's List; Saving Private Ryan; Lincoln; E.T. the Extra-Terrestrial) and starring Gabriel LaBelle (The Predator; American Gigolo (TV series)), Michelle Williams (Manchester by the Sea; My Week with Marilyn; Brokeback Mountain; Blue Valentine), Paul Dano (12 Years a Slave; Little Miss Sunshine; The Batman), Mateo Zoryan (in his first feature role) and Seth Rogen (The Interview; The Guilt Trip; This is The End; Superbad).

Drama; 151 mins; 12+

A semi-autobiographical version of Steven Spielberg's life, loosely based on his growing up in the 1950s-60s in America.

This original story following the Fabelmans, a Jewish family who move first to Phoenix (Arizona), then to California and eventually down to Los Angeles. Burt Fabelman (Paul Dano), an electrical engineer who worked in developing computers, moved where his career brought him, bringing his family with him each time. This included his wife Mitzi (Michelle Williams), a former concert pianist, their son Sammy (Gabriel LaBelle, Mateo Zoryan) and daughters Natalie, Reggie and Lisa, as well as their friend Bennie Loewy (Seth Rogen).

The film follows two main storylines, one being the relationship between Sammy's parents Burt and Mitzi, and the other where young Sammy develops his love for filmmaking and becomes an aspiring filmmaker, influenced initially by the train crash scene on The Greatest Show on Earth, also by a meeting with the director John Ford (The Quiet Man; The Grapes of Wrath; Stagecoach).

Other sub-plots include the discrimination the family has received for being Jewish, their moving to follow the father's career and the emergence of the nation post-WWII. It also showed how filmmaking could pave the way to an escape from life's challenges.

Sammy started to understand how films were made, he started using 8mm cameras and progressed as technology improved. We saw him hand-splicing film to edit his early creations, then progressing to editing machines. Even at school, when his film was shown on Prom Night (not really a spoiler...), an old projector was used.

Interestingly, not only was this level of technology paid a lot of attention throughout, but so too were the sets and props, for example kitchen utensils that would have been used at the time.

While the film is nostalgic in parts, it is by no means melancholy as the storyline explores issues the family had in relationships, both with and also with extended family.

And while Gabriel LaBelle was tremendous in playing Sammy (in other words, Steven Spielberg himself), the top acting award must surely go to Michelle Williams as his mother, who tried to balance her love and duty to her husband, her children and herself, in a truly captivating performance.

The Fabelmans has received no less than seven Oscar (Academy Awards) nominations, including for Best Director, Best Motion Picture, Best Original Screenplay and Best Performance by an Actress in a Leading Role.

On general release in Luxembourg at Kinepolis from 15 February 2023.