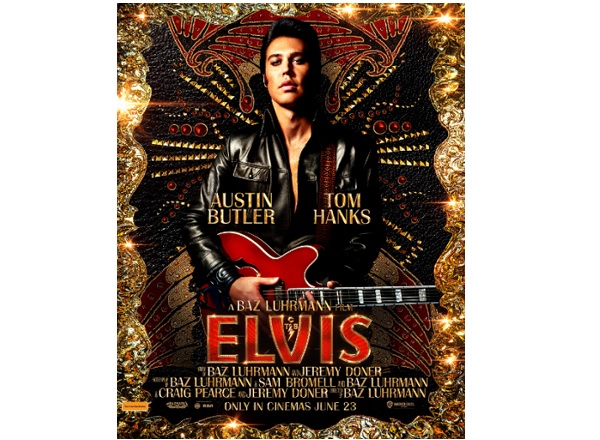 Directed by Baz Luhrmann (Moulin Rouge!; The Great Gatsby; Australia) and starring Austin Butler (Once Upon a Time... in Hollywood; The Dead Don't Die), Tom Hanks (Forrest Gump; Philadelphia; Cast Away; Saving Private Ryan), Richard Roxburgh (Moulin Rouge!; Van Helsing; The League of Extraordinary Gentlemen) and Olivia DeJonge (The Sisterhood of Night; The Visit; The Staircase (TV Series)).
Biopic; 159 mins; 12+
On the one hand, this biopic charts the rise of the superstar from his humble roots in Tupelo, Mississippi, to Memphis, Tennessee (the two of them are closer than Brussels is to Luxembourg) and through his career to his 5-year residency in Las Vegas.
On the other hand, it also delves into the complex relationship Elvis had with his manager Colonel Tom Parker (Tom Hanks) - who appeared to have a shady past - and how they depended on each other.
However, unlike the 2019 film Rocketman, which charted the early years of Elton John, and the 2018 film Bohemian Rhapsody, which focussed on the lead-up to Queen's famous performance at Live Aid in 1985, Elvis spans a timeline from when Elvis Presley (Austin Butler) was around 10 years old up to his death in 1977 at the age of 42.
Many aspects of the film are fascinating, on how Elvis' family were integrated and assimilated into black culture, including music and gospel music, in particular. It shows how Col Tom Parker was a manager in a fairground and was always on the lookout for the "next big thing"; importantly, he knew what the ingredients were for a top act. And, when a local record label took him under his wing (he was their only white artist) and put out his first record, everyone was playing it. Col Tom Parker swooped and became him manager, not only persuading Elvis that he would make him "big" but also convincing Elvis' father, Vernon (Richard Roxburgh), that he was the right man for the job.
It shows how he bought his home, Graceland, and how / why he served in the armed forces, and it showed how he met Priscilla (Olivia DeJonge) who would become his wife. It also showed why he never performed overseas (apart from 3 cities in Canada), his foray into films and Hollywood, and also his introduction to addiction, which ultimately killed him. It explains a lot about his life and ties all the pieces together, seamlessly.
"Elvis" is a long film, over two and a half hours, but it does cover a lot of ground. And the music, well, this is something you should go and listen to for yourself/ves. The archive shots/scenes are well blended into the final cuts that sometimes it is difficult to tell apart fact from fiction. One thing that may be a bit difficult to get used to is tom Hanks' accent he uses for his character. But is it (sort of, anyway) revealed late on in the film.