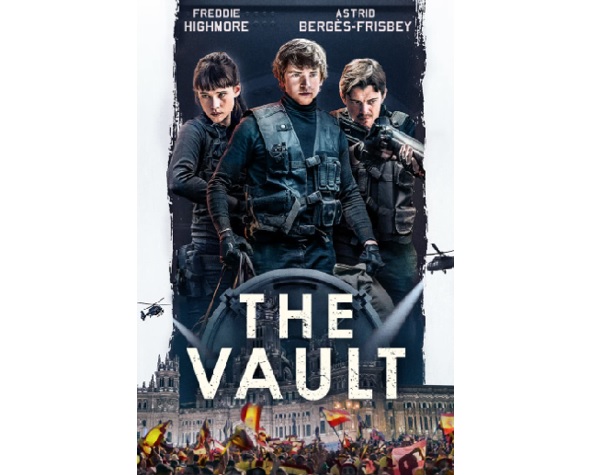 Directed by Jaume Balagueró ([Rec]; Sleep Tight; The Nameless; Muse; Fragile) and starring Freddie Highmore (Five Children and It; Finding Neverland; Charlie and the Chocolate Factory; The Spiderwick Chronicles; The Good Doctor (TV Series); Bates Motel (TV Series)), Astrid Bergès-Frisbey (King Arthur: Legend of the Sword; Alaska; Pirates of the Caribbean: On Stranger Tides), Sam Riley (Maleficent: Mistress of Evil; Radioactive; Sometimes Always Never; Pride and Prejudice and Zombies; Byzantium; Brighton Rock), Liam Cunningham (Pursuit; Noble; Good Vibrations; Safe House; The Guard; Clash of the Titans; Harry Brown; The Escapist; Perrier's Bounty; Game of Thrones (TV Series)) and Luis Tosar (Cell 211; Yucatán; The Outlaw; To Steal from a Thief).
Thriller; 118 mins; 12+
A tense and gripping thriller set primarily in 2010 in Madrid during the final stages of the FIFA World Cup in South Africa. As Spain's national team did well, winning their group and then progressing through the knock-out stages, their supporters at home were becoming more and more caught up in the occasion, taking to the streets to watch the games live on giant screens, including one outside the Bank of Spain in Madrid.
But this is just the setting. The actual story starts in the second half of the 16th century when Sir Francis Drake's ship sank 25 miles off Spain's west coast. At that time the famous maritime explorer was part pirate and his ship was carrying a special cargo, including the key to where his treasure was kept hidden, and has remained hidden ever since.
Fast-forward to the early 21st century, and Walter (Liam Cunningham) was leading an unofficial salvage operation after he discovered the location of the sunken ship. He managed to recover the "key", actually coordinates inscribed in three coins; however, the Spanish customs got wind of the illegal activity and seized their cargo of the key and various other items described as "treasure", leading to them being secured safely in the underground vault of the Bank of Spain in Madrid.
Undeterred, Walter hatches a plan to break in to the vault to get the key which would then lead him to untold riches. To do so, he must build a team: he gets Lorraine (Astrid Bergès-Frisbey) to get the attention of Thom (Freddie Highmore), a genius engineering graduate who is being courted by major industrial firms; however, none of them off him what he is seeking.
Together with James (Sam Riley), a diver who has worked alongside Walter for years, and Simon (Luis Tosar), they work together as a team to work out how to break in to the bank's vault at the same time that the World Cup is reaching its climax.
The film includes aspects of Ocean's Eleven (breaking into a secure location) as well as the Indian Jones' films and Dan Brown's Robert Langdon's character (puzzle-solving), plus also Mission Impossible and Jason Bourne films, as well as other related films and characters, to create an enjoyable action romp out of which there is really one outcome: one in which those breaking-in are almost caught and almost lose their lives in doing so...
But put against backdrops of a major European city and a major sporting occasion, and mixed with problem-solving challenges and not knowing who you can really trust, together with a high-tempo soundtrack, the film is genuinely enjoyable. The main character, Thom, is played by 29 year-old Freddie Highmore who rose to fame as a child actor in 2004-2005, and who has since proved himself as the mainstay of a US TV drama series in which he has recorded no less than 83 episodes. He play the gifted engineering graduate to a tee, a nerdy geek whose social skills are lacking but who can certainly think outside the box. His geekiness complements the other main characters' traits, particularly the steely determination of Liam Cunningham's Walter who could instead have turned out to be aggressive, arrogant and self-serving; instead, he is what he says he is - a salvage hunter...
Without giving any details away as to what happens, it's fair to say that it is all neatly gift-wrapped for a sequel, so watch this space.
Currently screening at Kinepolis in Luxembourg.