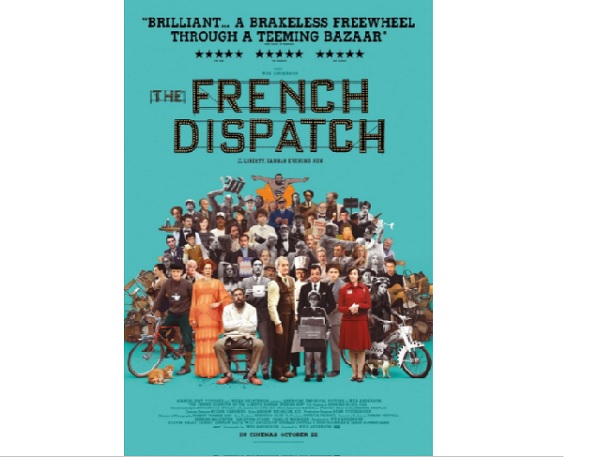 Directed by Wes Anderson (The Grand Budapest Hotel; Moonrise Kingdom; The Royal Tenenbaums; Isle of Dogs; Fantastic Mr. Fox) and starring Adrien Brody (The Pianist; The Grand Budapest Hotel; Midnight in Paris), Tilda Swinton (Michael Clayton; We Need to Talk About Kevin; Burn After Reading; Snowpiercer), Frances McDormand (Nomadland; Fargo; Three Billboards Outside Ebbing, Missouri; Moonrise Kingdom), Timothée Chalamet (Call Me By Your Name; Lady Bird; Dune; A Rainy Day in New York), Bill Murray (Lost in Translation; The Grand Budapest Hotel; The Monuments Men; Moonrise Kingdom; Isle of Dogs; The Jungle Book; Ghostbusters) and Owen Wilson (The Royal Tenenbaums; Midnight in Paris; The Grand Budapest Hotel; Wonder; The Internship; Night at the Museum).
Comedy drama; 108 mins; 6+
A homage to journalism, The French Dispatch focuses on a fictional French newspaper that was established in a fictional twentieth century French city for a foreign correspondent, the son of a US daily newspaper in Kansas, Missouri. Upon the death of the owner / editor, the publication is set to cease and the last edition is to be seen as his obituary. It looks at articles in each section, like a large Sunday supplement, and recalls stories / anecdotes that each section have to tell, using a vast array of top acting talent along the way (seven Oscar winners, no less, with many, many others who have received Oscar nominations), by way of an obituary, a travel guide and 3 feature articles.
In the obituary, Arthur Howitzer Jr (Bill Murray) can be heard on more than one occasion to utter the lines "Just try to make it sound like you wrote it that way on purpose", very fitting to Wes Anderson's quirky take and presentation on the big screen.
The travel guide section sees a bicycle tour guide, played by Owen Wilson, with the first feature, "The Concrete Masterpiece" recounting the tale of a genius modern artist serving a life sentence for murder, "Revisions to a Manifesto" about a young activist, and "The Private Dining Room of the Police Commissioner" featuring a talk show host interviewing a writer who can remember every line he has ever written and who recounts one particular story.
While very compartmentalised, and some of the storytelling appearing to be slow and meandering, the film itself races along at quite some pace, edited in trademark glitz and stylish modern bushwackery. Highly entertaining but possibly not as funny as, say, The Grand Budapest Hotel.
Currently screening at Ciné Utopia.