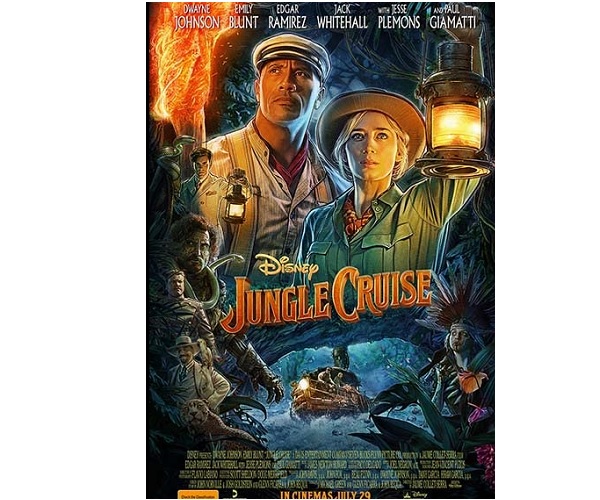 Directed by Jaume Collet-Serra (The Shallows; Unknown; House of Wax) and starring Emily Blunt (The Devil Wears Prada; The Young Victoria; Edge of Tomorrow; The Girl on the Train; Salmon Fishing in the Yemen; A Quiet Place; Mary Poppins Returns; Sicario), Dwayne Johnson (Jumanji: The Next Level; Fast & Furious...; Hercules; G.I. Joe: Retaliation; Journey 2: The Mysterious Island; The Mummy Returns), Jack Whitehall (Mother's Day; Bad Education; The Nutcracker and the Four Realms; Fresh Meat (TV Series)) and Jesse Plemons (The Irishman; Game Night; Battleship; Vice; Bridge of Spies).
Family Adventure; 127 mins; 12+
Based on Disneyland's theme park ride of the same name, Jungle Cruise is a fun-packed family adventure that should top the summer's box office listings. A cross between the Indiana Jones series of films, the Pirates of the Caribbean series of films, the Lara Croft: Tomb Raider films and a bit of Around the World in 40 Days...
The adventure starts with MacGregor Houghton (Jack Whitehall) - Disney's first openly gay character - addressing an all-male society in London, appealing for funds to South America to search for a long-lost something... While that is going pear-shaped, his sister Lily Houghton (Emily Blunt) - the heroine of the film - is busy trying to obtain (by deception) an ancient arrow-head which has just been delivered to the museum (ironically in the same building as the society) in a crate.
However, nefarious Prince Joachim (Jesse Plemons) has other plans and also wants to get his hands on the treasure which has not been heard of for around 400 years when a Spanish explorer was last heard of in the Amazonian jungle.
Lily and MacGregor find themselves in Brazil and meet up with Frank Wolff (Dwayne Johnson), the captain of a run-down ship that takes travellers on a trip up the river filled with deadly animals and reptiles, dangerous rapids and strange occurrences... Everything is not as it seems, partly thanks to some wonderful special effects.
A rip-roaring adventure that has a bit of everything, and is a perfect summer antidote to the lockdowns, restrictions and social isolation that so many have been facing over the past 18 months...
Screening at Kinepolis in Luxembourg from 28 July 2021.