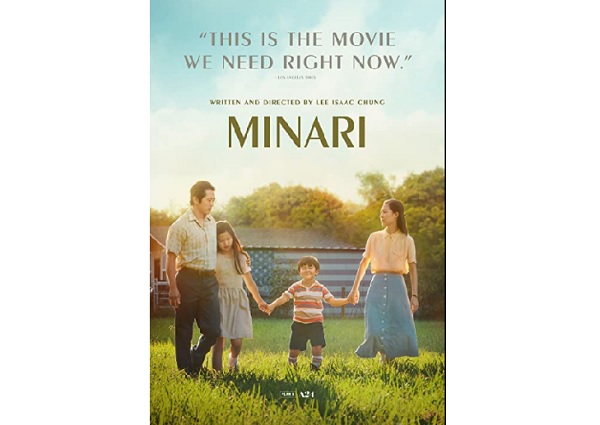 Directed and written by Lee Isaac Chung (Munyurangabo; Lucky Life) and starring Steven Yeun (The Walking Dead (TV Series); Final Space (TV Series); Voltron: Legendary Defender (TV Series)), Yuh-Jung Youn (Woman of Fire; The Housemaid; The Bacchus Lady), Yeri Han (Worst Woman; Sea Fog; various tv series), Alan S. Kim (in his first acting role) and Noel Cho (in her first acting role).
Drama; 115 mins; 6+
The Yi family move from California to Arkansas in the 1980s to start a farm growing Korean fruit and vegetables. Jacob Yi (Steven Yeun) yearns to own his own land, with that in Arkansas both cheaper than in California and better for agriculture. Before he gets his 50-acre farm off the ground, he and his wife Monica (Yeri Han) work as chicken sexers at a local poultry farm.
She is less than impressed with their accommodation, a run-down mobile home on their land, but he has his dream to be able to do better for his family which includes David (Alan S. Kim) and Anne (Noel Cho). They start to assimilate into the local life which includes the children going to school and the family going to church on Sundays. Soon their are joined by Monica's mother Soonja (Yuh-Jung Youn) who, although she does not speak nor understand English, looks after the children when Jacob and Monica are working.
They are welcomed into the community which already has some Korean families who more there earlier.
Jacob turns down the offer of a water diviner to find the best source of water on his land and finds water himself, but will it last the entire summer? They also engage the services of a farm hand who they find to be very religious, and not just on Sundays where he is seen to be a bit eccentric.
This is a story of immigrants aspiring to live the American Dream. They face trials and tribulations, both within the family and also from the elements, as well as at harvest time when Jacob's distributor lets him down without warning. The story is told mainly from David's perspective - Lee Isaac Chung was "David" when he was younger - and includes a number of anecdotes that he remembers from his childhood.
Faced with financial disaster and medical issues, the Yi family confront their challenges head-on, but not before internal strife threatens to tear them apart. A slow, brooding film that allows the audience to appreciate how tough it can be on a family to aspire to set up and run one's own business.
This film won an Oscar for Yuh-Jung Youn in the category Best Performance by an Actress in a Supporting Role.