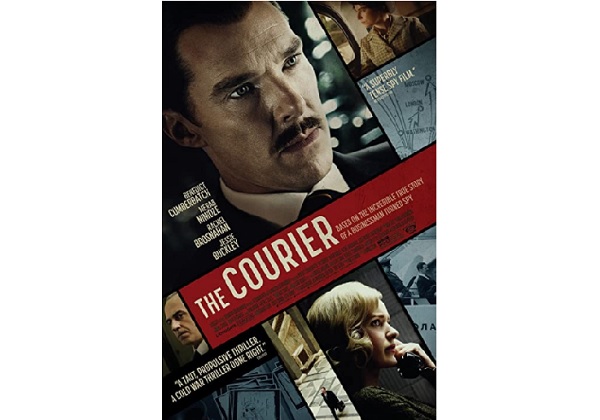 Directed by Dominic Cooke (On Chesil Beach; National Theatre Live: Follies) and starring Benedict Cumberbatch (The Imitation Game; Avengers: Infinity War; The Current War; August: Osage County; Star Trek into Darkness; Tinker Tailor Soldier Spy; Sherlock (tv series)), Merab Ninidze (McMafia; Jupiter's Moon; Repentance; Bridge of Spies; My Wife's Girlfriends (TV Series)), Rachel Brosnahan (Patriots Day; Beautiful Creatures; The Marvelous Mrs. Maisel (TV Series); House of Cards (TV Series)) and Angus Wright (Official Secrets; Maleficent; Labyrinth; Flowers (tv series); The Iron Lady).
Spy thriller; 112 mins; 12+
Set in the midst of the Cold War circa 1960 and leading up to the Cuban Crisis, a mid-ranking Russian fears for the future as he believes that Soviet leader Nikita Khrushchev to be unstable and risks world peace as the nuclear arms race gains momentum. The actions of Oleg Penkovsky (Merab Ninidze) lead the CIA, represented in London by Emily Donovan (Rachel Brosnahan), together with MI6, represented by Dickie Franks (Angus Wright), lead them to approach unassuming salesman Greville Wynne (Benedict Cumberbatch) who currently deals with clients in Eastern Europe, to expand his activities to Russia where he would eventually act as a courier for classified documents being secretly smuggled out of Russia.
The two men meet at a business presentation and they chat over lunch, leading to a dangerous collaboration which could be devastating for either or both of them. They become friends and meet each other's families, with Greville Wynne being wined, dined and entertained in Moscow, while Oleg Penkovsky and other members of a trade delegation receive the same hospitality when in London.
This espionage thriller is very well done indeed, except it is slightly on the long side with an almost 2-hour running time. It may have taken somewhat in regard to creative license; however, it is paced well for most of the time, with tension ebbing and flowing, with an impressive sound track keeping the audience on the edge of their seats.
The decors and furnishing of interiors are drab, as are the clothes worn by the characters, evoking the spirit of the times in which one was suspicious of everyone else, particularly in Russia.
Very interesting from a historical perspective - it is based on a true story around actual events which go some way to explaining what was happening behind the scenes, especially in the hot political climate.
Terrific acting by the main cast, in particular by Benedict Cumberbatch, with a great script allowing character development along the way.