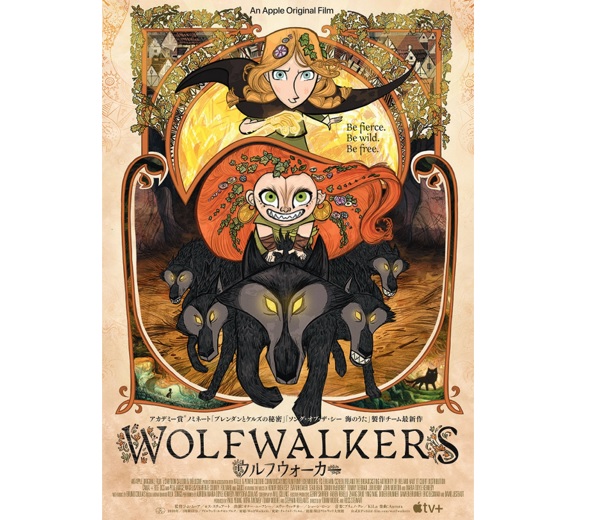 Directed by Tomm Moore (The Song of the Sea; The Secret of Kells) and Ross Stewart (1st film as director; previous experience as Art Director, etc.) and starring (the voices of) Sean Bean (The Lord of the Rings: The Fellowship of the Ring; The Lord of the Rings: The Return of the King; The Martian; Soldiers of Fortune; The Island; National Treasure; Anna Karenina; Game of Thrones (tv series)), Honor Kneafsey (Crooked House; The Bookshop), Eva Whittaker (first feature film) and Simon McBurney (Tinker Tailor Soldier Spy; The Theory of Everything; The Last King of Scotland; The Conjuring 2; Jane Eyre; Mission: Impossible - Rogue Nation; The Golden Compass; The Manchurian Candidate).
Animation; 103 mins; children admitted; a Luxembourg, Ireland, USA, UK, France, Denmark co-production.
Set in ancient Ireland, Wolfwalkers features characters akin to werewolves that are rumoured to transform into wolves by night. The town is terrified of wolves and the Lord Protector (Simon McBurney) comes to visit, overseeing the English garrison of soldiers, of which Bill Goodfellowe (Sean Bean) is charged with hunting the wolves.
His daughter Robyn (Honor Kneafsey) is eager to help her father and follows him into the forest, much to his chagrin. There she meets Mebh Óg MacTíre (Eva Whittaker) and a wolf pack...
This is a wonderful tale on the big screen with a great script / storyline and a mesmerising soundtrack which evokes the mood of the forest, the town and the townsfolk too. The graphic style is very different from previous such collaborations, specifically The Song of the Sea.
Importantly, Wolfwalkers is being nominated for the 2021 Oscars and has garnered much comment and discussion on both sides of the Atlantic...
SPOILER ALERT: The story also involves two single-parent families who form a fateful love sub-plot. Overall, the issues addressed also include British rule over Ireland and fear based on mass hysteria - the latter a topic that is linked with social media.
Currently screening in Luxembourg cinemas.