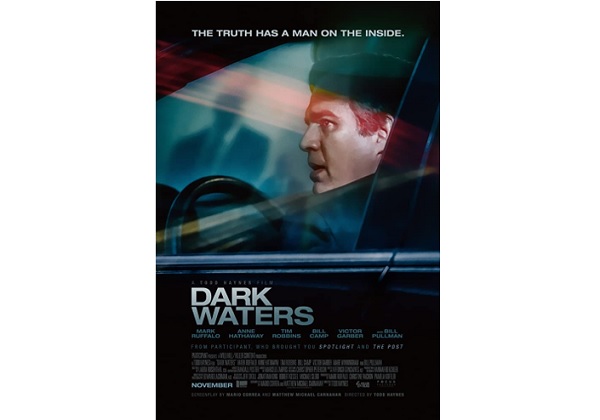 Directed by Todd Haynes (Wonderstruck; Carol; Far From Heaven) and starring Mark Ruffalo (Hulk; Spotlight; Foxcatcher; The Kids Are All Right; Shutter Island; Now You See Me; Eternal Sunshine of the Spotless Mind), Anne Hathaway (Les Misérables; Rachel Getting Married; The Dark Knight Rises; Interstellar; Ocean's Eight; The Intern; Valentine's Day), Tim Robbins (Mystic River; Dead Man Walking; War of the Worlds; The Shawshank Redemption; The Hudsucker Proxy) and Bill Pullman (The Sinner; Torchwood; Independence Day: Resurgence; Battle of the Sexes; American Ultra; The Equalizer; Lake Placid).
Drama; 126 mins; 12+
This drama, set from 1975 until just a few years ago, traces the tale of unregulated chemical plants poisoning the land and people across the US, where young corporate lawyer Rob Bilott (Mark Ruffalo) decides to help a neighbour of his grandmother, whose cattle are dying. He instigates a corporate lawsuit against DuPont that exposes, not only a lengthy history of pollution, but also knowledge of the threat to public health and the cover-ups that took place.
A superb performance by Mark Ruffalo, who also produced the film, ably supported by Anne Hathaway who played his wife, Sarah Bilott, as well as Tim Robbins who played Tom Terp and Bill Pullman who played Harry Dietzler.
It has many similarities to Erin Brockovich (2000) which involved facing up to, and taking down, a power company. Both films showed the power and strength or corporations, with billion-dollar profits and self-regulation the order of the day.
But in Dark Waters, Mark Ruffalo's character shows dogged determination to find out, first why the cattle have died, then he investigated the chemical compounds involved (PFOA, C8 - linked to the production of Teflon) and what they can do, and then in courtrooms and in front of investigative committees. The story is based on decades of documented and well-known civil and criminal cases, countless deaths and DuPont's own records that they tried to hide.
The graining added during the post-production editing set the timeline off to a great start, complete with cars, homes, furnishings and clothing all from that era, gradually changing as the film entered a more recent timeline.
If you want to find out what powerful corporations can do, just watch this film. Will you ever want to buy a non-stick frying pan afterwards?