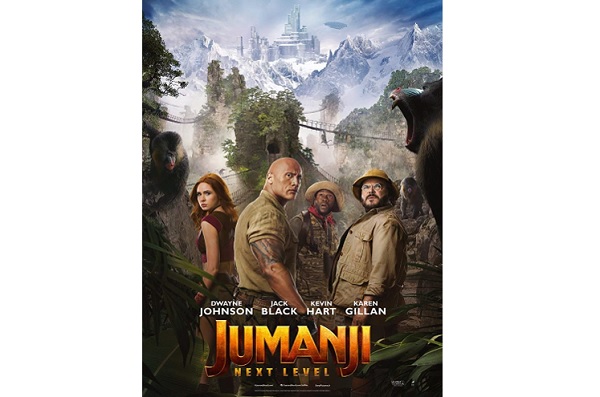 Directed by Jake Kasdan (Jumanji: Welcome to the Jungle; Walk Hard: The Dewey Cox Story; New Girl (TV Series)) and starring Dwayne Johnson (Jumanji: Welcome to the Jungle; Furious 6; Moana; G.I. Joe: Retaliation; The Scorpion King; Journey 2: The Mysterious Island; San Andreas), Kevin Hart (Jumanji: Welcome to the Jungle; Central Intelligence; The Secret Life of Pets; Ride Along 2; The Five-Year Engagement), Jack Black (Jumanji: Welcome to the Jungle; High Fidelity; Kung Fu Panda 2; Goosebumps; King Kong; School of Rock); Karen Gillan (Jumanji: Welcome to the Jungle; Guardians of the Galaxy; Not Another Happy Ending), Danny Glover (Lethal Weapon; 2012; The Enforcer; The Royal Tenenbaums; The Prince of Egypt; The Color Purple; Dreamgirls) and Danny DeVito (One Flew Over the Cuckoo's Nest; Who Framed Roger Rabbit; Romancing the Stone; The Jewel of the Nile; Matilda; Get Shorty).
Family adventure, 123 mins, 12+
A sequel in its truest sense to the second Jumanji film, the 2017 "Jumanji: Welcome to the Jungle", with the storyline featuring Spencer, a student, who comes home from college but feels guilty within himself for not keeping in contact with his girlfriend and other friends. He decides to go back into Jumanji, the video game where he assumes a character, an avatar; when his friends discover this, they try to also go back in, understanding the dangers that it brings.
While not wanting to give too much away, the friends take on the same set of avatars as before, but not in the same way... And there are a couple of extra characters too... Spencer's grandfather Eddie (Danny DeVito) and Milo (Danny Glover) join two of the original Jumanji "players" and become the avatars played by Karen Gillan, Jack Black, Dwayne Johnson and Kevin Hart.
Once they land back in Jumanji, they realise that the game has changed and that they are on another level (of the video game); in fact, they through jungle, desert and the frozen north. On their way to reaching their quest, they come across various obstacles and challenges which their characters must use their strengths to overcome.
Apart from the overall premise of real characters taking on the characters of their avatars, often with hilarious results, particularly regarding Danny DeVito's and Danny Glover's characters, there is another sub-plot or two happening in parallel in the "real world".
The action sequences are very well done, and there are stampeding ostriches, reminiscent of scenes and plot extracts from the original 1995 "Jumanji" film, with the concept and feel of a video game always hanging in the background. It is funny in places, often hilarious; overall, a fun family film, perfect for the festive season.