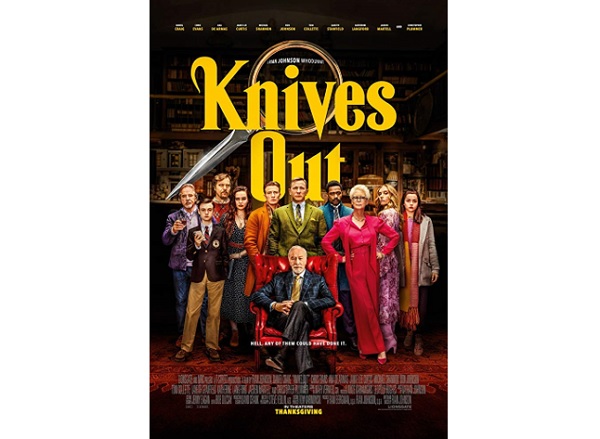 Directed by Rian Johnson (Looper; The Brothers Bloom; Star Wars: Episode VIII - The Last Jedi) and starring Daniel Craig (Skyfall; Spectre; The Girl with the Dragon Tattoo; Cowboys & Aliens; The Golden Compass; Lara Croft: Tomb Raider), Chris Evans (Captain America: Civil War; Avengers: Infinity War; Snowpiercer; Scott Pilgrim vs. the World), Jamie Lee Curtis (Halloween; Trading Places; A Fish Called Wanda; The Tailor of Panama; Fierce Creatures), Michael Shannon (Nocturnal Animals; Revolutionary Road; The Shape of Water; Elvis & Nixon), Don Johnson (Django Unchained; Book Club; Miami Vice (tv series)), Toni Collette (The Sixth Sense; Little Miss Sunshine; About a Boy; Hector and the Search for Happiness), Christopher Plummer (Beginners; All the Money in the World; The Girl with the Dragon Tattoo; A Beautiful Mind; The Tempest; The Imaginarium of Doctor Parnassus; National Treasure) and Ana de Armas (Blade Runner 2049; No Time to Die; The Informer).
Comedy Crime Drama; 130 mins; 12+.
A quirky whodunnit set mainly inside a large family home, probably in New England, in the autumn. The family's patriarch Harlan Thrombey (Christopher Plummer), a crime novelist, dies of apparent suicide shortly after his 85th birthday, and the dysfunctional family members - including Richard Drysdale (Don Johnson), his wife Linda (Jamie Lee Curtis) and their son Ransom (Chris Evans), Walt Thrombey (Michael Shannon) and his wife Joni (Toni Collette) - start to row over the vast fortune left behind, even before their father is buried.
Other pivotal characters, and arguably the lead characterds, include Marta Cabrera (Ana de Armas) who has been Harlan Thrombey's nurse and confidant, and Benoit Blanc (Daniel Craig), a debonair private investigator who does not know who has hired him and who is working to establish the circumstances around the patriarch's demise.
Full of twists and turns, most of which can be seen "a mile off", it explores greed and family squabbling, laying bare secrets and blackmail, as well as some kind hearts. Tensions ebb and flow, with suspicion cast on different characters, with red herrings, lies and outright deceit mixed in with clues ready to be uncovered and dissected until the truth emerges...
An entertaining, engaging and fun, star-studded, old-style murder-mystery, comparable to an Agatha Christie whodunnit in a modern, American setting.
Screening at Kinepolis-Kirchberg and Kinepolis-Belval from Wednesday 27 November 2019.