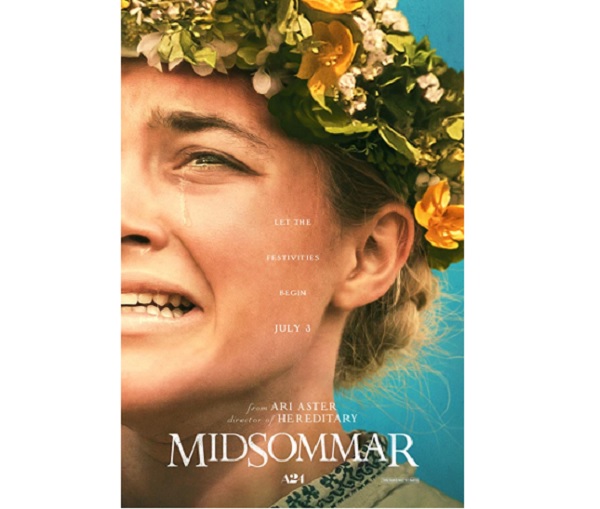 Directed by Ari Aster (Hereditary) and starring Florence Pugh (Lady Macbeth; The Falling; Malevolent; The Commuter), Jack Reynor (What Richard Did; Transformers: Age of Extinction; Sing Street; The Secret Scripture), Will Poulter (The Chronicles of Narnia: The Voyage of the Dawn Treader; We're the Millers; Maze Runner; The Revenant), Vilhelm Blomgren (in his first feature film) and William Jackson Harper (Paterson; All Good Things; The Good Place).
Thriller, 147 mins; 16+
Dani (Florence Pugh) is lost when her sister and parents die; her boyfreind Christian (Jack Reynor) is planning a trip to Sweden with his friends Pelle (Vilhelm Blomgren), Josh (William Jackson Harper) and Mark (Will Poulter), where Pelle's extended family has a form of commune that celebrates Midsummer in their own traditional way in a remote part of Sweden.
When they arrive they are warmly welcomed into the extended family and are encouraged to participate in some of the traditions. With Josh and Christian being Anthropology students, Josh has indicated that he is doing his thesis on the different traditions of celebrating Mindummer and wants to include Pelle's family's traditions in this. While they are against photographs being taken, they do agree to him writing about it while the people and location, etc., are kept anonymous.
They are offered what appears to be a form of hallucinogenic magic mushroom concoction, with some of the group more eager than the others to sample. Then, as things start to become a bit odd, even unnerving and disturbing, Christian decides to do his thesis on this particular Midsummer, igniting some friction between Josh and himself.
The traditions and rituals then start to take a more sinster turn and some of the group try to leave, which appears to be more difficult than it seems as the village become more insular and protective.
Throughout all that is happening around them, Dani and Christian are pulled in different directions, with Dani still grieving for her lost family, looking for love and security and, in a way, she feels that she has that here in the Swedish valley.

A horror film without the horror; much more dramatic than scary, more an arthouse horror film with superb cinematography, with almost all scenes outside in bright sunlight rather than indoors in dark unlit chambers.