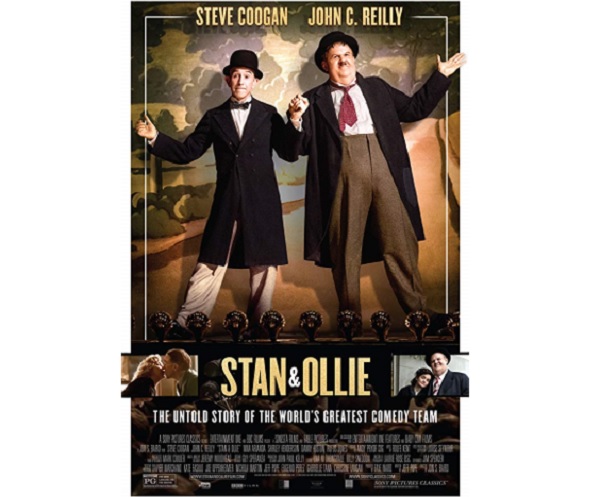 Directed by Jon S. Baird (Filth; and some tv series) and starring Steve Coogan (Philomena; The Trip; Night at the Museum: Secret of the Tomb; what Maisie Knew; Alan Partridge...), John C. Reilly (Chicago; The Aviator; Guardians of the Galaxy; The Sisters Brothers; Kong: Skull Island; The Lobster), Shirley Henderson (Bridget Jones's Baby; Set Fire to the Stars; Anna Karenina; Harry Potter and the Goblet of Fire) and Nina Arianda (Midnight in Paris; Florence Foster Jenkins; Tower Heist).
Comedy drama / biopic; 98 mins; 6+
This is a film about friendship, about aguably the most famous comedy double act in history, Stan Laurel (Steve Coogan) and Oliver Hardy (John C. Reilly), who appreciate each other's skills and attributes and, above all, friendship. Sometimes friends bicker, and things to boil over on occasion, but by and large they have enjoyed working together, from the time of silent films to black & white "talkies" and continue to do so, now on the stage.
Told in a melancholy haze and at a meandering pace, the audience is drawn into the heart-warming world of Stan Laurel and Ollie Hardy who are approaching the ends of their careers but who have embarked on a tour of Britain, biding their time until the financing for another film, this one based on the Robin Hood fable, comes about. They are working small theatres mainly in the north of England, working their way down to London where they hope the tour will have gained momentum and they will be performing in larger venues, and the financier for their film project will come and see their show.
Using artistic licence to condense three actual tours to Britain, plus a section in Ireland, into just one long one on screen, the two friends have overcome the effects of living the high life and do not drink or smoke anymore. Their peak was a while ago but they are doing what they love best, treading the boards at theatres up and down the land, together.
The storyline and script provide a fascinating insight into their working together, having been teamed up by Hal Roach in his studios where they were tied in to very stringent contracts. It also addresses them both trying to work with other partners at different times, but they always come back together.
It also involves their wives, Ida Kitaeva Laurel (Nina Arianda) and Lucille Hardy (Shirley Henderson), showing how the men loved them, and how they cared for their "boys". Both women are very different and probably would never have been friends if their husbands had not worked together. There is one particular scene near the end of the film, at a theatre in London involving the two women where one small gesture illustrates their bond, to each other and also involving Stan and Ollie.
Both Steve Coogan and John C. Reilly really nail the two lead characters and portray a genuine friendship and camaraderie, with the two ladies of their (characters') lives, Shirley Henderson and Nina Arianda, both supporting them in the ways they knew best, which sometimes included just letting the "boys" get on with it...
Don't forget to watch the rolling credits at the end...