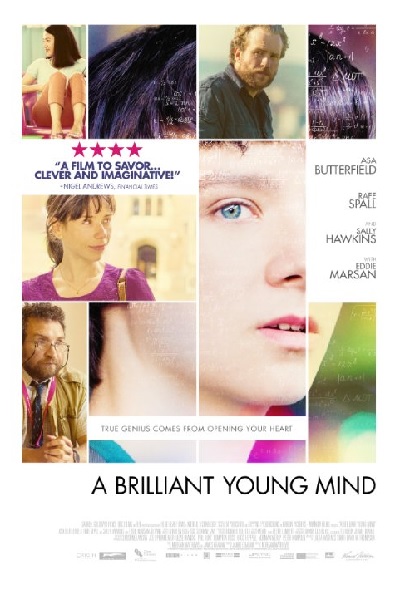 Directed by Morgan Matthews (Shooting Bigfoot and many other documentaries) and starring Asa Butterfield (Hugo, Ender's Game, The Boy in the Striped Pyjamas), Rafe Spall (Life of Pi, The Shadow Line, Prometheus, A Good Year), Jo Yang (in her first feature role) and Sally Hawkins (Blue Jasmine, Paddington, Jane Eyre, Made in Dagenham).
Drama; 111 mins; 6+
A powerful British drama about an autistic boy, Nathan Ellis (Asa Butterfield), low on social skills but who possesses a brilliant mathematical mind. His mother Julie (Sally Hawkins) raises her alone after his father is killed in a car accident. A former maths olympian, Martin Humphreys (Rafe Spall), takes Nathan under his wing and encourages him to try out for the British Maths Olmypiad team.
Coming from a society in which he is different than almost everyone else, he participates in a training camp in Taiwan with other top teams, including from China. Here he is considered an equal to everyone, a situation in which he is also very uncomfortable. But it is also where he meets Zhang Mei (Jo Yang), a young female contestant on the Chinese team.
The film, on the one hand, illustrates the difficulties and challenges of someone diagnosed with autism growing upm in a family environment, not only for them but also for the rest of the family, and interaction with the wider community and, on the other hand, explores the technical world of International Mathematics Olympiads. Then there are the sub-plots of a coming-of-age drama, the burgeoning relationship between Julie Ellis and Martin Humphreys, as well as the latter's facing up to his multiple sclerosis and dependency on pharmaceutical drugs.
Apart from dealing with all these above complex and sensitive issues in a very delicate way, the director also ensures that the individual characters develop progressively, particularly seeing Nathan Ellis growing up and being faced with new situations.
Not to be missed!