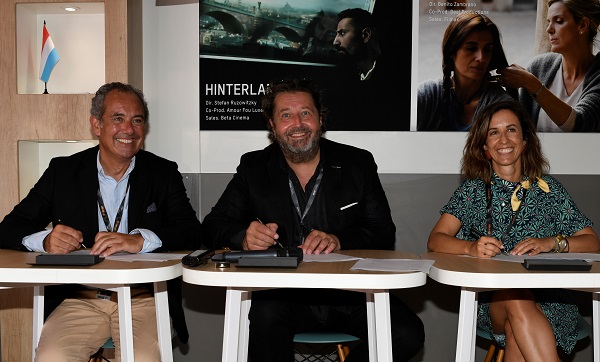 (Above) L-R: Luís Chabiz Vaz, ICA Portugal President;Guy Daleiden, Film Fund Luxembourg Director; Maria Mineiro ICA Portugal Vice-President; (below) Luxembourg film industry professionals in Cannes; Credit: Thibaut Demeyer
Luxembourg Film Fund has confirmed that the Grand Duchy is back in Cannes this month with its pavilion at the Marché du Film (Cannes Film Market), the business counterpart of the Cannes Film Festival.
As part of the 74th Cannes Film Festival, the Luxembourg film industry is meeting this year, from 6 to 15 July 2021, for the 18th time at its pavilion installed in the international village of the Marché du Film with around 20 film production companies.
During the traditional Luxembourg day on Saturday, the film production and press professionals present were thanked for the work accomplished since the start of the pandemic and for all the fine selections and prizes collected, including the Golden Bear at the Berlin International Film Festival (Berlinale) 2021.
As for the official selections of the Cannes Film Festival, Luxembourg is represented by two Samsa Film (Jani Thiltges) co-productions: "The Restless" (Les Intranquilles) by Joachim Lafosse (feature film in competition); "Where is Anne Frank" by Ari Folman (animated feature film out of competition; in co-production with Doghouse Studio). The festival also includes a selection for Mélusine Productions (Stéphan Roelants) with "The Summit of the Gods" (Le Sommet des Dieux) by Patrick Imbert (animated feature out of competition).
The Luxembourg pavilion put the spotlight on Luxembourgish actress Vicky Krieps, who plays a role in three films selected at Cannes and who visited the pavilion.
In terms of international relations, Film Fund Luxembourg Director Guy Daleiden and his Portuguese counterparts Luís Chaby Vaz and Maria Mineiro (President and Vice-President of ICA Portugal - Instituto do Cinema e do Audiovisual respectively) signed an agreement to support the co-development of bilateral film projects and strengthen creative exchanges between Luxembourgish and Portuguese cinema professionals.