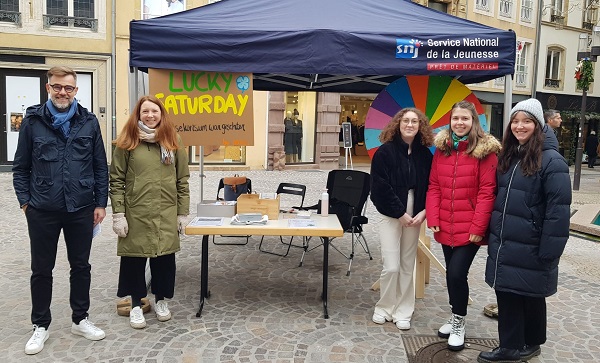 Credit: Mouvement Ecologique
On Saturday 26 November 2022, the Luxembourg environmental non-profit organisation Mouvement Ecologique asbl held an anti-Black Friday "Lucky Saturday" event in Luxembourg City.
In the presence of Luxembourg's Minister of the Economy, Franz Fayot, members of the press and close stakeholders and activists, the non-profit raised the question whether society really needs immeasurable consumption and growth to be happy.
The non-profit recalled that the problems that arise from high consumption are well known: our natural resources on this planet are limited and people are often exploited in the countries of the Global South so that we can buy cheap goods here. In addition, people do not seem to get happier the more they shop.
According to Mouvement Ecologique, Luxembourg's Economy Minister supported its demands and emphasised that he has already initiated action in this area at various levels.
As part of this "Lucky Saturday" action, Mouvement Ecologique issued the following demands:
- the "GDP of well-being", which also looks at aspects such as health, ecology and real well-being, should be used as the main index, and not just GDP;
- Luxembourgish companies should be obliged, through a national supply chain law, to ensure that human rights and ecological and social standards are respected in the production of their goods sold abroad;
- we need to move much faster towards a circular economy, instead of constantly using up new natural resources. Therefore, the circular economy should be supported by the state at all levels. Through laws, improved VAT rates and more, it can become easier and cheaper to repair, share or recycle than to buy new. For example, the VAT on second-hand clothing should be lower than that on new clothing. There should also be more places and initiatives in municipalities, such as resource centres (rather than recycling centres), repair cafes or sewing classes in schools, so that one's first reflex is no longer to immediately throw away used items or "just" recycle them.