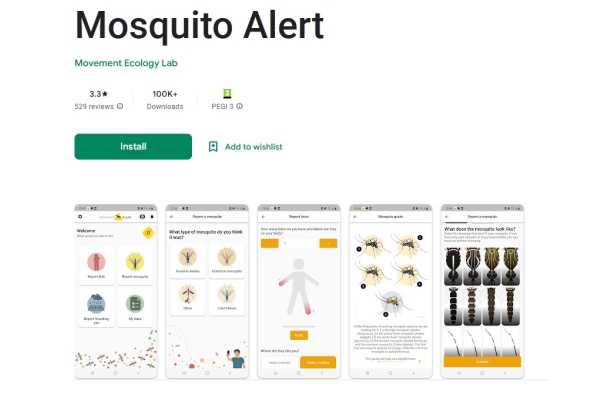 Luxembourg's Ministry of Health has called upon residents of Luxembourg to join the largest mosquito monitoring network in the world and contribute to the study and monitoring of invasive mosquitoes and mosquitoes of public health interest through the application "Mosquito Alert".
In recent years, certain species of mosquitoes which can harbour vectors of infectious diseases have been the subject of increased surveillance.
Indeed, populations of mosquitoes that can transmit diseases such as dengue fever, chikungunya, zika or even malaria and yellow fever are increasingly being spotted in southern Europe. Recently tiger mosquitoes, which could transmit the dengue virus, were found as far away as Nancy, France. A case of dengue imported from the tropics in a person in Strasbourg even triggered a large mosquito eradication operation for fear of the disease being transmitted locally.
In Luxembourg, monitoring by the Health Department of invasive mosquitoes began this summer in view of the evolution of the installation of these mosquito populations. Previously, ad hoc searches had been carried out by the Ministry of the Environment, Climate and Sustainable Development in collaboration with the National Museum of Natural History and nothing of concern had been reported.
The tiger mosquito (Aedes albopictus), the main object of surveillance, was thus discovered for the first time in Luxembourg at the beginning of September.
Early detection of invasive mosquitoes makes it possible to implement countermeasures to prevent, or at least slow down, the spread of these species and prevent the occurrence of a local epidemic of still tropical diseases. It also raises awareness of measures to limit the proliferation of mosquitoes and thus ensure the health protection of the population.
The Health Inspectorate of the Health Directorate is responsible for monitoring in collaboration with the Ministry of the Environment, Climate and Sustainable Development in the event of the need for intervention and with various stakeholders in the areas to be controlled. The Health Directorate also collaborates with a medical entomologist expert, Francis Schaffner, and the National Museum of Natural History for the identification of mosquitoes. Traps are placed in the areas of entry into the country and with high traffic during the summer period when the heat allows these mosquitoes to lay their eggs.
If an invasive species is identified, the Health Inspectorate will intervene to put in place the necessary measures.
In addition to health monitoring, an application to download to their phone allows residents to increase surveillance.
"Mosquito Alert" app
Interested residents can participate in systematic mosquito monitoring by downloading the European "Mosquito Alert" app.
The application makes it possible to send photos of mosquitoes that experts can identify and in the event of detection of an invasive mosquito, the Health Inspectorate can intervene.
The "Mosquito Alert" application is available in nineteen languages ​​(including Luxembourgish) and can be downloaded from App Store: https://gd.lu/fJC9Js or Google Play: https://gd.lu/1rMR5d.