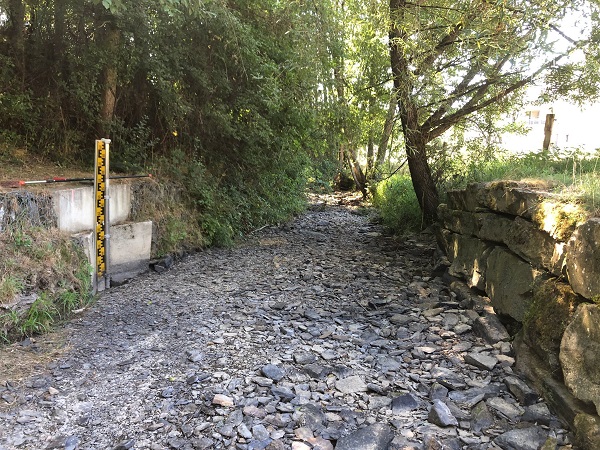 Dry river bed in Béiwenerbaach, Bavigne; Credit: AGE / D. Majeres
On Wednesday 10 August 2022, Luxembourg's Ministry of Environment, Climate and Sustainable Development, together with the Water Management Administration, confirmed what many people have been thinking across the Grand Duchy, that the extended dry climatic conditions experienced over the past few weeks are affecting water courses and aquatic habitats.
According to their statement, 2022, with its heat waves and a rainfall deficit, promises to be a year of record drought: our rivers are suffering from this and have extremely low levels, some are even dry.
Given the current critical situation of our waterways, the Ministry of the Environment, Climate and Sustainable Development and the Water Management Administration have issued a reminder about the prohibition of withdrawing any surface water, even authorised, and to greatly reduce fishing on the rivers. This is to avoid further compromising the survival of aquatic organisms and potentially irreversibly degrading the quality of surface waters.
The levels of our rivers
The weather conditions are expected to be stable, which will prolong the rainfall deficit and the current drought. Showers or localised thunderstorms are nevertheless possible from the end of this week, but will hardly change the critical situation of our waterways. It would take at least two weeks of consecutive rainfall to significantly improve the situation.
Since March 2022, river levels have fallen to half of those observed between 2002 and 2020. During the month of July, the levels of the Oesling rivers have already fallen to a quarter of normal. From then on, the Our and the Haute-Sûre showed particularly low and worrying levels. The levels of rivers in the south of the country have been impacted less severely. In July, they averaged less than 60% of normal monthly levels. In August, some small streams are already dry - a rare and worrying event, never before observed on certain streams.
The downward trend in flows is confirmed by the low water level observation network for the last week. Critical values ​​have been measured since July, especially at the Oesling, also on the Attert and the Moselle.
The impact of drought on waterways
Periods of drought are not without consequences for our waterways. The drop in water levels directly affects aquatic fauna and flora on several levels: Low water levels favour an increase in water temperature, which depletes the availability of oxygen for organisms aquatic. Added to this is the increase in the concentration of polluting loads since the dilution effect is lessened by low flow rates.
When rivers are partially dry, there is a fragmentation of the aquatic environment. The organisms that live there find themselves trapped in a section of stagnant watercourse, depleted in oxygen, with a significant pollutant load, and without the possibility of accessing areas favourable to survival.
Drinking water awareness phase still relevant
Even if the resources and capacities of the major suppliers at the national level are currently sufficient to meet current consumption, some municipalities nevertheless find themselves in critical situations at the local level. The awareness phase is still relevant and the ministry has called on all consumers to show good citizenship and to adopt the right gestures.

For further details, see www.waasser.lu