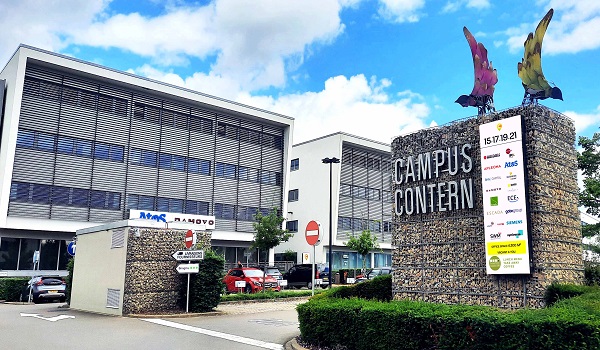 Campus Contern;
Campus Contern has become the first office complex in Luxembourg to be awarded a CO2 neutral label.
CO2logic, a Belgian environmental advisory company, recently awarded Campus Contern its "CO2 Neutral 'Building'" label, certifying that the office complex "is conscious of its CO2 emissions and by supporting certified climate projects it has offset 15.813 tCO2e [tonnes of carbon dioxide equivalent]".
Hosting large companies, small and medium enterprises (SMEs) and startups, Campus Contern consists of five buildings. It uses 100 % green electricity for heating, cooling and lighting and has set the priority of doing the maximum possible to reduce its carbon footprint.
Under the slogan "Feel good at work", 33 Luxembourgish and international companies are already being hosted on Campus Contern. They are free to design their space according to their wishes and requirements and they enjoy a fully natural environment, free from allergens and chemical pollution. A natural solution is used to purify the air in all of the buildings, around the clock.
Company employees can use Campus Contern's autonomous electric shuttle bus service, the Campus Contern car sharing system, 67 car charging points for electric vehicles, as well as a system put in place for the easy sorting of waste and the reduction of packaging. In terms of biodiversity, beehives have been set up on the rooftop of one of the buildings.
All tenants can benefit from Campus Contern's environmental certifications which, besides being CO2 Neutral, has also been awarded the CSR (Corporate Social Responsibility) label and the "BREEAM excellent in use" certificate.
Based on the internationally recognised PAS2060 standard, the "CO2 Neutral'' label was developed by the consultancy CO2logic together with Vinçotte, an international independent certification authority. This label does not leave any room for "greenwashing". It is a recognition of serious climate efforts. Since 2007, it has guaranteed that organisations with the label actively calculate, reduce and compensate for their local and global climate impact.
"I confirm that Campus Contern is the first to obtain a CO2 Neutral building label in Luxembourg", stated Sara Sánchez, Senior Climate Action Associate - FraBeLux at CO2logic.