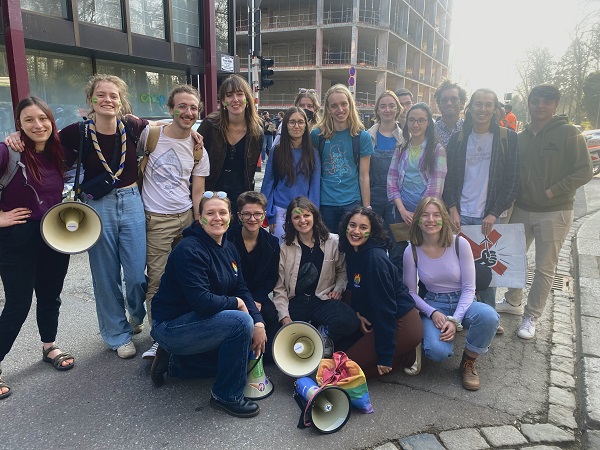 Credit: Youth for Climate Luxembourg
Chronicle.lu recently sat down with Selma Vincent of Youth for Climate Luxembourg (YFCL) to discuss the current priorities and demands of this youth-led climate movement, as well as how its mission and activities have evolved over the past three years.
Created in January 2019 as a result of the Fridays For Future (FFF) global climate strike movement, YFCL is led entirely by young volunteers (mainly secondary school or university students) in Luxembourg. The initial goal was to organise climate action in the Grand Duchy – something YFCL felt had been lacking. As Selma Vincent explained, the team's numbers have dwindled slightly in the context of the COVID-19 pandemic; what started out as 30 or so volunteers has dropped to fifteen to 20. Whilst she lamented that activism appeared to have declined globally during the pandemic, Selma assured that the movement remains active and committed to its goal of demanding climate action and climate justice. Most recently, on Saturday 25 June 2022, YFCL organised an anti-greenwashing protest in Place de Clairefontaine in Luxembourg-Ville.
Interlinked crises
When asked specifically about the impact of the pandemic on YFCL's mission and activities, and whether the health crisis and the war in Ukraine have overshadowed the climate crisis, or if, rather, these crises were all linked, Selma said: "They are definitely linked". She regretted that the pandemic had impacted YFCL's activity in that a lot of the movement's political leverage was based on widespread support. "If you can't secure support in the street [e.g. due to COVID-19 restrictions on gatherings], you lose leverage", she continued. During the pandemic, YFCL did try alternative formats, such as a Zoom protest which attracted about 200 people, but it could not compare to previous in-person protest numbers – one protest in March 2019 had brought together some 15,000 people. Whilst she recognised that the climate crisis had been somewhat overshadowed over the past couple of years, Selma stressed that new crises such as the war in Ukraine had their "own degree of importance" and it was important to show solidarity. In fact, one of the recent demands of YFCL was to put an end to this war. She also mentioned the harmful impact of European dependence on Russian energy, citing for example the recent decision of some European countries to switch on coal plants again amid the energy crisis. "This interlinkage of crises should be used as an opportunity to speed up the [green] transition and investments rather than returning to old solutions", argued Selma. She recognised that the climate crisis was "dragging out" but lamented that some politicians and officials were "still not getting the hint".
Focus on Luxembourg's impact
In terms of how the movement has evolved since its creation in 2019, and its current priorities and demands, Selma explained that YFCL had started off with general demands related to climate action and climate justice. "We later became more specific, [focusing] on Luxembourg's impact [and] what we can do here locally to impact climate", she noted. "Luxembourg is so involved in finance but still invests in fossil fuels". She also regretted the limited nature of environmental, social and governance (ESG), emphasising that "green investments should be green". Another issue she cited was Luxembourg's pension fund whose strategy has generated controversy in terms of sustainability in recent years. "Finance is our biggest strength [in Luxembourg] and our biggest downfall", she continued, stressing the need to divert from environmentally harmful investments.
Intergenerational betrayal
As well as its strong financial role, Luxembourg is politically strong as a one of the seats of EU institutions. In this area, Selma lamented the classification of fossil gas and nuclear energy as "green" in the European Commission's EU taxonomy. Despite calls from organisations like YFCL on MEPs to reject the Commission's proposal, the European Parliament rejected a motion on Wednesday 6 July 2022 to oppose the inclusion of gas and nuclear energy as environmentally sustainable economic activities. Speaking on behalf of YFCL about this decision, Selma stated: "We were all extremely angry with the Parliament's decision to not oppose the motion to include nuclear and gas energy as sustainable within the EU Taxonomy. This intergenerational betrayal by our political leaders cannot continue into the 2020 decade if we want to achieve climate justice". Another of YFCL's demands relates to the need for solidarity between the Global North (wealthier, industrialised countries which contribute most to climate change) and the Global South (poorer countries which are hardest hit by climate change).
Referring to the opinion of YFCL on current national and EU- or worldwide climate goals, such as Luxembourg's objectives of reducing greenhouse gas emissions by 55% by 2030 compared to 2005 and achieving net-zero emissions by 2050, Selma noted that such national objectives were in line with EU policies on climate change, such as the European Green Deal. However, various organisations, such as Greenpeace (with whom YFCL works closely), have criticised these goals for not going far enough. Instead, they argue that greenhouse gas emissions would need to be reduced by at least 65% by 2030 in order to limit temperature rise to 1.5°C.
Stop subsidising polluting industries
As for what governments, but also companies, can and should do to accelerate this transition, Selma suggested addressing "some of the most polluting industries that have not been addressed before", namely the meat industry. "This is one of the most polluting industries in the world but it receives subsidies", she explained, adding that Luxembourg was one of the world's biggest consumers of meat. "We should not subsidise something that is so emission heavy", she continued. "The youth are really conscious of this now". She also questioned why lobbyists (at the national and European level) were allowed to have so much say in environmentally harmful areas such as the meat industry and fossil fuels.
Concerning how YFCL decides a certain date or type of event, Selma explained that Fridays for Future coordinated global actions, often choosing particular dates such as Earth Day or hosting events on particularly relevant subjects at times when momentum is building. However, YFCL also organises its own events based on the subjects which are most relevant to Luxembourg and / or the EU. She added that YFCL has worked closely together with other organisations in Luxembourg from the beginning. "When YFCL was created in 2019, we were all in [secondary] school. We had passion but not the organisation or experience", noted Selma, adding that various organisations had served a "parental role" for YFCL. Today, the movement works closest with Greenpeace, which has extensive expertise on specific Luxembourg issues and whose style of action most closely aligns with that of YFCL.
From 3 to 6 September 2022, YFCL is organising, together with BIGS - Biergerinitiativ Gemeng Suessem asbl, Mouvement Écologique - Régionale Sud and natur&ëmwelt - Gemeng Suessem, a forest camping event centred around climate education and workshops. All activities (camping, conferences, a film evening, a bicycle tour, etc.), which will take place in Sanem, are open to the public. Further information to follow.